Some thoughts about Falklands and flying the Union Jack
Friday, October 27th 2017 - 07:57 UTC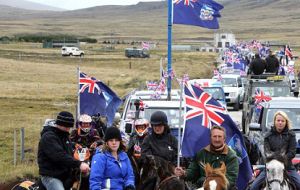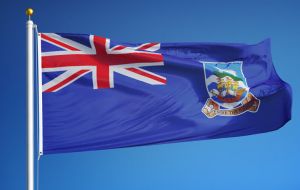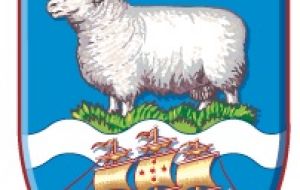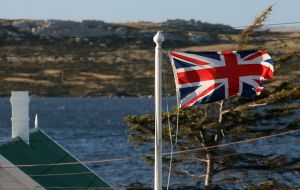 By John Fowler - It's no good if the Falkland Islanders just keep on saying that they don't want to be Argentine; you can't define yourself in terms of a negative, you must decide what or who you want to be and proclaim it positively."
This quote from a distinguished Scottish journalist visiting the Falkland Islands in the seventies came to mind again when reading the account of MLA Mike Summers's final speech to the Legislative Assembly in which he urged that the Falklands dispute with Argentina should not be left for future generations to deal with.
One could argue that defining ourselves positively was precisely the purpose of the referendum carried out by the Falkland Islands Government in 2013. However, despite the fact that the referendum was run according to the highest international standards and that over 98 per cent of those eligible to vote in the Islands voted in favor of the Falkland Islands retaining its current status as a British Overseas Territory, the Argentine Government did not accept the referendum's legitimacy and gives its result no credence. Clearly, if it was meant to deliver a final blow to the Argentine sovereignty claim, the referendum failed. So where do we go from there?
The Argentine and British government's positions over sovereignty would appear to be unshakeable, at least in the short term, so if there is to be an answer, I think it lies principally in the hands of the Falkland Islands Government and Falkland Islanders themselves. I agree with Mr. Summers that we should not give an inch on our right to self determination and that it will be a long process. However I believe that there are things we can do to help it along.
During the last few years FIG has increased its efforts to offer a different and more accurate view of our reality to other countries in Latin America who have hitherto given a kind of knee-jerk support to Argentina's sovereignty claim. Visits by MLAs, trade delegations, and even youthful sporting contacts have all combined to increase the global visibility of our small country. Targeted use of social media, invitations to journalists, other media groups and politicians have all contributed to convey the realities of Falkland Islands life to a larger world. These efforts are important and should carry on. Quite apart from their myth-destroying effect, they also implicitly require an acceptance of the existence and legitimacy of the Falkland Islands Government, something which Argentina refuses to acknowledge.
We know that the Falkland Islands is a democratic, prosperous and virtually autonomous country, not suffering any kind of oppression except for the efforts made by the Argentine Government to restrict and harass our economic development. As an overseas territory of a country pledged to support our right to self-determination, and assuming population growth and continued economic development, full independence would normally be seen as a logical goal. This ambition in our case is held in check by the presence of a powerful neighbor which claims sovereignty over us.
I believe this stalemate will continue as long as Argentina continues to deny our right to self-determination and to see itself simply in an ownership competition with Britain. This, of course, ignores both historical fact and the support for our right to self-determination from the UK and the United Nations Charter.
We must now do our part in asserting that this country belongs neither to Argentina nor Great Britain, but to Falkland Islanders. In order to make that message plain, I think that except on certain appropriate occasions like the Queen's birthday, the flying of any flag other than that of the Falkland Islands should be discouraged. We have our own flag. The union flag in its corner acknowledges our historic, cultural and continuing links with Britain, while the coat of arms proclaims our identity as a country with its own history and culture.
Without having given it much thought, after having been fed the Malvinas myth from their earliest days, I suspect that most Argentines who have not actually been here, go along with their government's erroneous notion that we are a British colony with an implanted English population. The flying of the Union Flag encourages this unhelpful misconception that we are still a colony and "owned" by Britain.
As democracy develops in Argentina, it is these ordinary voters whose perceptions we have to change if we are not to leave the present unhappy impasse to our grandchildren. Seeing too many UK union flags on our streets and vehicles only serves to reinforce official Argentine propaganda. Having Argentines visit the Islands as tourists can be a very valuable part of their education, but let's make sure that we are not unwittingly giving them messages which work against us. Let us proclaim positively that we are no longer a colony, not a British county, nor a detached piece of Scotland, but the proud and distinctly different and beautiful Falkland Islands. (Penguin News)