Argentina formally protests Rapier missile exercise in the Falklands
Saturday, October 28th 2017 - 07:58 UTC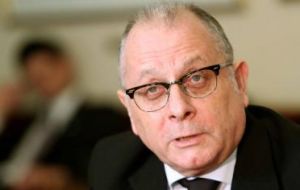 Argentina presented on Thursday a formal protest to the United Kingdom embassy in Buenos Aires rejecting the military exercises with Rapier missiles in the Falkland Islands, scheduled to take place next week.
The foreign ministry release also indicated that Argentina would report the coming exercises to the United Nations Secretary General and to the International Maritime Organization.
"The Argentine foreign ministry became aware on 24 October that the British government will be holding military exercises in the Malvinas Islands area, between 30 October and 3 November, which will include the launching of Rapier missiles.
"Faced with this situation and in the framework of Argentina's obligations and responsibilities referred to navigation security in the Southwestern Atlantic, the Naval Hydrographic Service on 24 October broadcasted a nautical radio/warning informing about the development to the exercise.
"The Argentine Republic rejects the execution of these exercises in Argentine territory, illegitimately occupied by the UK and which ignore United Nations resolutions and from other international organizations, calling on both sides to resume negotiations for a peaceful and definitive solution to the sovereignty dispute, as well as abstaining from any unilateral acts in the territory and maritime spaces under dispute.
"Today, (Thursday 26 October), the foreign ministry delivered to the UK embassy in Buenos Aires a formal protest referred to the above mentioned military exercises and likewise will inform of the situation to the UN Secretary General and to the IMO Secretary general of the situation, concludes the release.
British sources pointed out that this kind of exercises are held annually in the Falklands since the end of the South Atlantic conflict in 1982. The Argentine media also reported that on this occasion British ambassador Mark Kent personally informed the Argentine foreign minister Jorge Faurie, in advance of the exercises.
This apparently signals a difference from past years when the military exercises were informed in advance in the Falklands media, radio and the weekly Penguin News