Falklands launches 2017 Poppy Appeal: 100th anniversary of Passchendaele and 35th of South Atlantic conflict
Saturday, October 28th 2017 - 08:35 UTC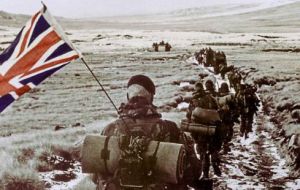 This week the Falkland Islands Branch of the Royal British Legion officially launched the Island's 2017 Poppy Appeal. Since 1921 members of the public have worn the red poppy on their chest as a symbol of Remembrance to remember the fallen Service men and women killed in conflict.
The Poppy Appeal is as relevant today as it was at its inception in 1921 when the Royal British Legion was formed with the Appeal culminating on Remembrance Sunday; a day we remember and honor those who have sacrificed themselves to secure and protect our freedom.
Chris Locke, Chairman of the Falkland Islands Branch of the Royal British Legion, said: "This year is particularly important as it marks the 100th anniversary of Passchendaele, also known as the Third Battle of Ypres, which remains one of the most notorious battles of the First World War.
Around 90,000 British and Commonwealth soldiers were reported missing; 50,000 were buried without being identified and 42,000 never recovered from the Belgian fields of Flanders that turned into an ocean of mud.
"However closer to home, this year marks the 35th Anniversary of the Falklands War where thoughts are focused on the events of 1982 and the impact the War had and continues to have on both our community and veterans".
"The RBL's motto, Live On; to the memory of the fallen and the future of the living, is particularly fitting; post 1982 the Falklands community is thriving, it's success as a nation serves to confirm that the sacrifices made in 1982 were not all in vain."
Chris went on to say, "last year over £14,000 was raised towards the Poppy Appeal through local donations or charitable events and plans are now well in hand to raise funds for the 2017 Appeal.
"Poppies are available at various locations around Stanley and MPA with all money raised going towards helping and supporting the vital work Royal British Legion undertakes for the Armed Forces community".
If you would like to know more about the work of the RBL or about becoming a member please contact Chris at: chairman@rblfi.org. (Penguin News)