The silent majority of Catalonia and the December 21st election-referendum
Thursday, November 2nd 2017 - 09:01 UTC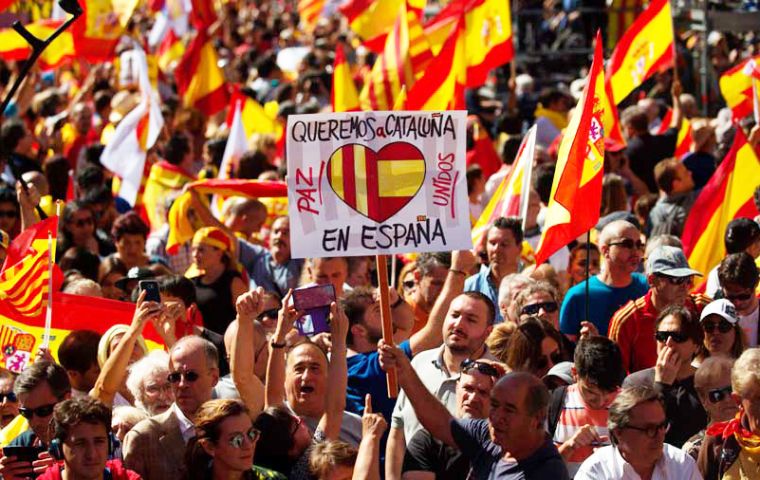 By Gwynne Dyer - It's been going on for a while. "Recently in Catalonia we have been living through a kind of 'soft' totalitarianism...the illusion of unanimity created by the fear of expressing dissent," wrote best-selling Catalan author Javier Cercas in the Spanish newspaper El País in 2014. Those who didn't want independence kept their heads down and their mouths shut, in other words.
Three years later, it has just got worse. Last July, leading Catalan film-maker Isabel Coixet told The Observer that "Madrid is deaf and mute and the government here (in Catalonia) is really happy about that. They never really look for dialogue at all." She added that Catalans are afraid of speaking out "for fear of being called fascists."
That about sums it up. Opinion polls consistently show that a majority of the people who live in Catalonia want it to remain part of Spain. The latest, published in El Pais on Saturday, showed that 55% of those polled opposed the declaration of independence in the Catalan parliament last week, with only 41% in favor.
That's an even more decisive rejection of separation from Spain than a poll commissioned by the Catalan government and published just before the declaration of independence, which came out 49%-41% in favor of remaining in Spain. Yet the news coverage was all about flag-waving nationalist crowds demanding independence, because the silent majority was staying low.
Finally, on Sunday, a big pro-Spanish crowd came out in the streets of Barcelona: 300,000 people according to the police, more than a million according to the organizers. About the same size as the pro-independence crowds, therefore, but they left it rather late. The separatist strategy has worked well, and by now the fat is really in the fire.
The separatists' problem was this: no opinion poll has ever shown a majority for independence since the current upsurge in Catalan nationalism began about eight years ago. For the past few years the 'yes' vote has been stuck at around 40%. You can hardly declare independence for the region without a vote of some kind, so what do you do?
A referendum is better than an election, because it's a single-issue vote that will really get the faithful out. But how do you prevent the more numerous skeptics from voting too? Well, the Spanish constitution is a great help there, because it says that a referendum on independence for any of Spain's regions would be illegal. So if you hold one, maybe the true nationalists will vote despite the law, while the rest obey the law and stay away.
They road-tested this model three years ago with an 'advisory' referendum that the Madrid government sort of tolerated (though it said it was illegal), and it worked just fine. Only 37% of the population voted, but 80% of those who did show up voted 'yes' to independence
That's the kind of number you could really use to justify declaring independence, even if it's a bit of a cheat. If anybody complains, just shrug your shoulders, say you wish the turn-out had been higher, and carry on doing what you want to do: declaring independence. And so it came to pass.
The Catalan nationalists had foreseen this, and welcomed it. Nothing could be better for the cause than images of Spanish police dragging women out of polling booths, and the uproar would keep even the hardiest 'no' voters away. The turn-out this time was a bit higher, at 43%, and so was the 'yes' vote: 90%. Very gratifying.
With that manipulated result in hand, the president of Catalonia's regional government, nationalist leader Carles Puigdemont, declared independence last week. The Spanish central government immediately dissolved the regional parliament, removed Puigdemont and his cabinet from office, and announced a fresh regional election for 21 December.
It's all strictly in accord with Article 155 of the Spanish constitution, and Puigdemont probably foresaw this too. He has always been three moves ahead of Madrid. Meanwhile, Spain's Deputy Prime Minister Soraya Saenz de Santamaria now has the job of running Catalonia until the election, and she will probably have a very difficult time.