Macri's ambitious infrastructure investment plan begins with 7.700kms of roads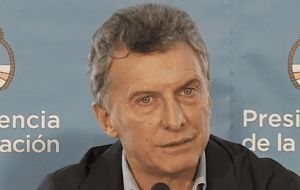 Argentina hopes to attract US$26.5 billion in infrastructure investments through 2022 in the form of public-public private partnerships (PPPs), government officials told a gathering of construction and finance executives this week.
The plan, enabled by a law passed last year that lowered barriers to foreign investment in public works, will include US$ 5.2 billion in projects that will open to competitive bids in 2018, mostly in the transportation, communications and technology sectors.
Since taking office in December 2015, business-friendly President Mauricio Macri has ramped up investment in Argentina's roads, railways and sewage systems after more than a decade of underinvestment during populist administrations.
"The needs for infrastructure investment are enormous," Finance Minister Luis Caputo told reporters on the sidelines of the event. "We need to achieve our deficit goals, which force us to be austere, but on the other hand we need to invest more in infrastructure so companies can be more competitive."
Argentina's treasury will invest 1.9% of GDP in infrastructure in 2018, in line with 2017 levels, according to the government's budget. Caputo said the PPPs would allow total infrastructure investment to rise about 60% year-over-year, reaching around 3.5% of GDP.
Overall, the government expects to put 60 projects out to tender, ranging from a railway to link the Vaca Muerta shale field to coastal ports to construction of prisons, schools and hospitals. Last month, the Interior Ministry asked companies to submit proposals for building and financing US$ 9.6 billion for water infrastructure projects. The PPP program will kick off with bids this month to begin constructing 7,277 kilometers of roads.