Sex related allegations involving cabinet ministers further weaken Theresa May's government
Monday, November 6th 2017 - 08:27 UTC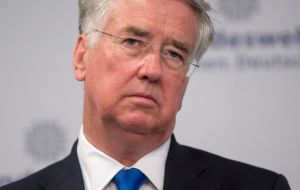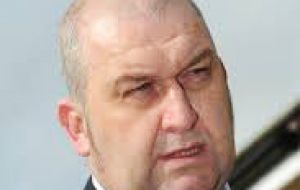 The scandal surrounding Britain's political class deepened Sunday with more allegations of sexual harassment, abuse of power and other misdeeds, including new claims involving a key ally of Prime Minister Theresa May, further distracting the UK government from its Brexit agenda and again exposing the weakness and vulnerability of her Conservative administration.
The allegations dating back more than a decade involve behavior that ranges from inappropriate touching and sending suggestive text messages to matters serious enough to be reported to police for possible prosecution.
First Secretary of State Damian Green, a senior Cabinet figure who is in effect May's deputy, emphatically denied a Sunday Times report that police had found "extreme" pornography on his computer during an investigation nine years ago. He said he is the victim of a smear campaign.
Green already was being investigated for alleged inappropriate advances on a Conservative Party activist. He called the Sunday Times story "completely untrue" and said it came from an untrustworthy, tainted police source.
"The allegations about the material and computer, now nine years old, are false, disreputable political smears from a discredited police officer acting in flagrant breach of his duty to keep the details of police investigations confidential, and amount to little more than an unscrupulous character assassination," Green said.
An official Cabinet Office inquiry into Green's behavior started after a woman complained that Green touched her knee at a meeting in a pub and later sent her an inappropriate text message.
The allegations swirling through the British government go far beyond Green and former Defense Secretary Michael Fallon, who stepped down last week after reports of inappropriate behavior by him surfaced. A rising number of legislators from the Conservative and Labour parties face similar allegations, and politicians in Scotland and Wales have been caught up as well.
The Welsh government's Cabinet secretary for communities and children, Carl Sargeant, said he resigned Friday after allegations of his misconduct were made. The government's leader said Sargeant had been removed from his post pending an investigation. Sargeant has asked for an independent inquiry to clear his name.
In Scotland, Mark McDonald, a minister for child care from the Scottish National Party, resigned over past actions. He apologized and said behavior he had thought might be "humorous" or "friendly" had made people uncomfortable.
Charlie Elphicke, a member of Parliament, has been suspended from the Conservative Party because of what the party calls "serious allegations" that have been referred to police. He has denied wrongdoing.
Home Secretary Amber Rudd said behavior described by the London media, if the reports were accurate, would be "completely disgusting."
She said Britain is having a "watershed moment" with regard to harassment of women and that the wave of accusations would bring about a "clear out" in government that will leave its institutions in better shape. Rudd told Sky News that electing more female legislators would help change the male-dominated culture in Parliament.
However interviewed by BBC the Home Secretary also insisted that there should be no rush to conclusions while there are ongoing investigations, and certainly abuse of power must come to surface and be condemned. But those accused for alleged misconducts also have a right to defend themselves, their family and honor, and not be judged openly in the media.
Home Secretary Amber Rudd also denied point blank, "absolutely not" that the Theresa May was about to collapse, implode because of the resignation of Fallon and the accusations against Deputy PM Damian Green.