Macri optimistic about reaching a Mercosur/EU trade deal by end of the year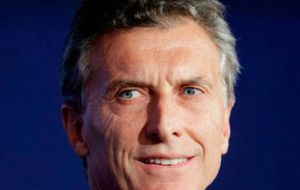 Argentine president Mauricio Macri who has made signing trade deals a priority, said he was optimistic that Mercosur, the trade bloc formed by Argentina, Brazil, Paraguay and Uruguay, would be able to conclude a free trade deal with the European Union by year-end despite differences over beef, ethanol and other agribusiness matters.
"I feel that the European Union is really committed to finding an agreement with Mercosur," he said, predicting that a deal could be signed at the WTO Ministerial Conference scheduled to happen in Buenos Aires in early December. "They know they need some good news after Brexit."
Macri, who is wrapping up a two-day visit to the United States during which he met with executives from companies including BlackRock Inc, Amazon.com Inc and DowDuPont Inc predicted the Argentine economy would grow "a little more than 3%" in 2017.
"Yes, I am optimistic," he said. "Everyone says 2.8%, I say a little more than 3%."
Macri, whose Cambiemos coalition coasted to a sweeping victory in mid-term elections last month, acknowledged that if his forecast came true his government would likely have to make payments on debt linked to the country's economic performance.