Madrid admits constitutional changes to allow referendums in Spanish regions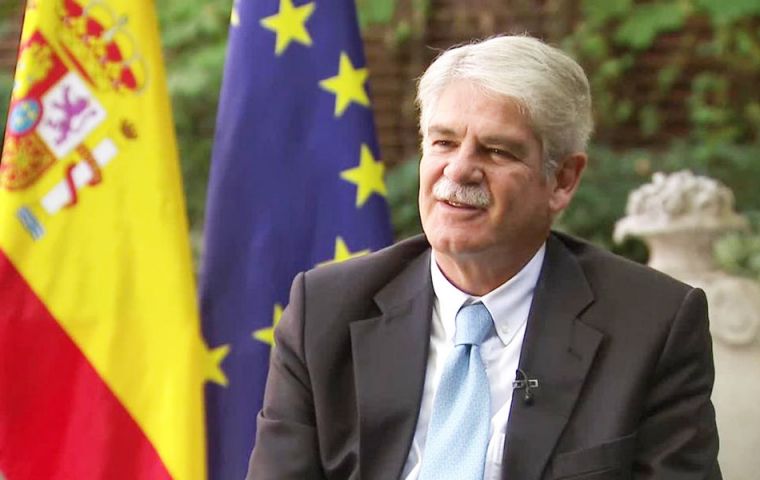 Spain is considering constitutional changes that could allow its regions to hold referendums on independence in the future, the foreign minister says. Alfonso Dastis has told the BBC a nationwide vote on the issue could be held.
The move is in recognition of the events in Catalonia, where the regional government was deposed after a unilateral declaration of independence.
Protests were held against the detention of the region's ex-leaders. Meanwhile, Spain's constitutional court has ruled that the declaration of independence was "unconstitutional and void".
"We have created a committee in parliament to explore the possibility of amending the constitution to be able to accommodate better the aspirations of some of the Catalan people," Dastis told the BBC.
"We acknowledge there is a political situation that deserves to be looked at but, in any case, it's clear that the decision will be taken, will have to be taken by all Spaniards."
He also said he was sorry if people got hurt during the banned referendum last month, but that there was no disproportionate use of force. He had previously said some pictures of violence were "fake"
Dastis said the legal change might help resolve the Catalan crisis for future generations. But it is a far cry from what deposed Catalan leader Carles Puigdemont had called for, the right for Catalans only to decide.
Some major roads and rail services were still blocked as part of demonstrations called by pro-independence groups. Minor scuffles were reported earlier when police moved in to remove protesters. Hundreds of people also gathered in front of Catalonia's presidential palace in Barcelona.
A call for a general strike was not backed by the region's major unions, and shops and businesses opened as normal. Universities and some schools were affected.
Meanwhile in a speech to parliament, Prime Minister Mariano Rajoy called for a big turnout in the snap election called for 21 December so that Spain could get over the crisis. Pro-independence parties failed on Tuesday to reach an agreement to form a united front for the vote.