Brexit has a date and will be written into law: 11pm GMP 29 March 2019
Friday, November 10th 2017 - 21:11 UTC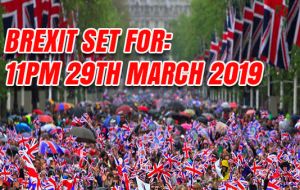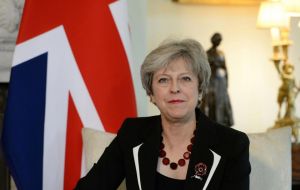 The date of Brexit will be written into law as Theresa May warned Tory rebels that the process of leaving the European Union will not be derailed. Amendments to legislation going through Parliament will spell out that the UK's membership of the EU will end at 11pm GMT, midnight in Brussels, on 29 March 2019.
Brexit Secretary David Davis said the change will make the UK's departure date "crystal clear". And the Prime Minister issued a blunt message to pro-EU MPs, saying any attempt to block Brexit will not be tolerated.
The amendment enshrining Brexit day in law will be considered by MPs when the European Union (Withdrawal) Bill returns to the Commons next week. Mrs May's fragile grip on power, relying on DUP votes for a Commons majority, means the Government is vulnerable to any Tory rebellion.
Writing in the Daily Telegraph the Prime Minister said: "We will not tolerate attempts from any quarter to use the process of amendments to this Bill as a mechanism to try to block the democratic wishes of the British people by attempting to slow down or stop our departure from the European Union."
Mr Davis indicated that he was talking a "pragmatic" approach to MPs' concerns by writing Brexit day into the Bill. "Our amendment makes it crystal clear that the UK is leaving the EU at 11pm on March 29 2019."
"We've listened to members of the public and Parliament and have made this change to remove any confusion or concern about what 'exit day' means."
"This important step demonstrates our pragmatic approach to this vital piece of legislation. Where MPs can improve the Bill, whatever their party, we will work with them. We look forward to further debate in the House of Commons when committee stage begins next week."
The Prime Minister will attempt to win support from European businesses for her goal of moving the negotiations on to trade talks.
She will meet leading business organizations on Monday to set out her vision of a "bold and deep economic partnership" between the UK and EU after Brexit.
The Brexit Secretary and Business Secretary Greg Clark will also attend the Downing Street event, which the CBI has helped to organize. Groups represented include the BDI and BDA from Germany, Medef from France and the EU-wide BusinessEurope.
Ministers hope that business groups can lobby their national governments to support a trade deal which will be in the interests of both sides in the negotiations.
But in a sign of business unease about the impact of Brexit, motor manufacturers Honda, Ford and Vauxhall set out their concerns in evidence to a Commons select committee.
In a written submission to the Business, Energy and the Industrial Strategy committee, Honda, which employs 4,000 people at its Swindon plant, said it had concerns about disruption to supply chains, regulatory divergence, restrictions on free movement of labor and the impact of tariffs.
"With 35% of exports from our Swindon factory exported to the EU, and 40% of the components used to build cars at Swindon imported from EU27 suppliers, frictionless, tariff-free access to the single market and customs union is vital to our competitiveness," the Japanese motor giant said.
Honda also warned that non-tariff barriers could potentially have a greater impact than import and export tariffs.
Ford said any transitional deal should be a "standstill agreement" preserving current rules because "we do not believe that the new customs, border and documentation arrangements necessitated by the UK leaving the EU and customs union could be put in place by April 2019".