Plunge into South Georgia freezing waters to lobby for marine sanctuaries
Friday, November 10th 2017 - 10:12 UTC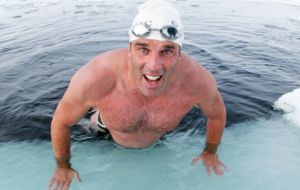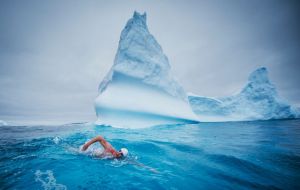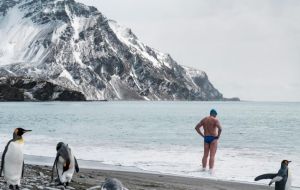 The United Kingdom government has been urged to create a marine sanctuary around islands in the South Atlantic which are "virtually untouched by humans". Fully protecting 500,000 square kilometers around the South Sandwich Islands would preserve wildlife including penguins, seals, seabirds and whales, conservationists said.
The call comes after British endurance swimmer Lewis Pugh completed a 1km swim in the freezing waters of UK Overseas Territory South Georgia and the South Sandwich Islands, in a bid to increase protection for the wildlife-rich area.
It is already affected by climate change, and while human activity around the South Sandwich Islands is limited, there are fears that industrial fishing fleets seeking new stocks could soon move in.
Taking the plunge in just his swimwear – into sea temperatures of just 2C and braving elephant seals in King Edward Cove, South Georgia – Mr Pugh became the first person to swim in the spot. His 19-minute swim took him past the Grytviken Whaling Station, ending near the grave of explorer Sir Ernest Shackleton.
Mr Pugh, who has swum in the Arctic and Antarctic and every ocean on Earth, had billed his latest swim as his most dangerous yet.
After the swim, he said there was a "lot of fear" because a previous event in July had gone wrong as he was in very cold water for too long, and because of the sheer quantity of animals in the area which had never seen a human swim before.
"There is nothing more frightening than swimming past a 3,000kg elephant seal lying on a beach. You just pray it stays there."
"Today we are not just dealing with protecting one species, but the entire ecosystem is under threat from rapid climate change and the threat of industrial fishing which is so prevalent around the world."
He called on the UK Government to create a complete no-take zone around the South Sandwich Islands to protect them from fishing, and he also wants increased environmental protection for the waters around South Georgia.
Simon Reddy, director for the Pew Bertarelli Ocean Legacy project, said: "The South Sandwich Islands are virtually untouched by humans. By reclassifying the islands as a fully protected marine sanctuary, the UK would be safeguarding an internationally recognized biodiversity hot spot."
He said it would conserve the "unique environment" around the islands, protecting wildlife and the ecosystems of active underwater volcanoes, hydrothermal vents and seamounts.
The calls to protect the area comes as the UK Government is being urged to deliver on its pledge to create a "blue belt" of marine protected areas around UK overseas territories, focusing on Ascension Island, St Helena, Tristan da Cunha and the South Sandwich Islands, all in the southern Atlantic.