Spanish vessel fined £15,500 for oil spill in the Falklands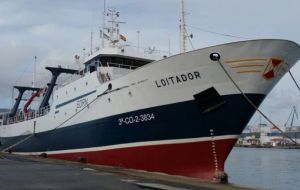 Spanish fishing company, Profesionales Pesqueros SA and Mr. Remigio Leyenda Cedeira, the master of its trawler, Loitador, were fined £15,500 and £1,300 respectively after pleading guilty on the Summary Court in Stanley to a charge of allowing oil to escape into the territorial waters of the Falkland Islands.
The Justices of the Peace (JPs) heard that the ship was maneuvering in Port William whilst awaiting a replacement crew member when it ran aground in Blanco Bay. The bow was indented and two hand-size holes were created in the bow. The ship managed to free itself a few hours later at high tide and with the help of launches, but it is estimated three cubic meters of marine diesel oil escaped from a damaged fuel tank.
The following day, Fisheries Department officers inspected the trawler. The ship was found to have two radars, one of which had been switched off, and the other had been set incorrectly so that land was not visible on it.
Prosecuting, Mr. Stuart Walker told the JPs that the Master of the ship had been negligent in not anchoring the vessel, and not having the radars set correctly. He suggested that the oil spill could have damaged local flora and fauna, but fortunately, it was blown out to sea and dispersed.
Defending both the Master and the owners, Ms Alison Inglis agreed that the actions had been negligent, but that there had been no damage caused by the spill so any punishment should reflect this.
Ms Inglis informed the Court that the vessel was owned by a family-run Spanish company and it was its only ship.
JPs asked several questions regarding how the ship was repaired and what actions were taken to stem the oil leakage.
Justice of the Peace, Dick Sawle, said that the JPs had listened carefully to the points made by the prosecution and defense, and believed that there had been negligence on the part of the Master. He could have anchored; suggested Mr Sawle, and heeded radio warnings from launches.
Fortunately, said Mr Sawle, the level of environmental damage was low, but the JPs were deeply concerned about the careless attitude towards mitigation of further spillage.
Profesionales Pesqueros SA was fined £15,500 and Mr Leyenda Cedeira, £1,300. Both were ordered to pay £150 costs. (Penguin News)./