Falklands demining operations at Port Harriet Farm, Mt Longdon and Goose Green
Monday, November 13th 2017 - 07:06 UTC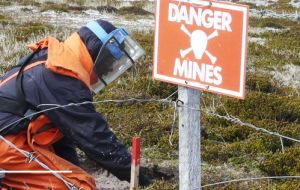 DYNASAFE Bactec recently returned to the Falkland Islands to continue demining operations, namely the completion of Phase 5a by March 18. "The break of around 10 weeks has allowed us all to recharge our batteries to finish these remaining tasks," said Project Manager Julius Unsung.
Mobilization started on September 10 and the first group of deminers have gone through a period of training and then deployed on operations in the Port Harriet Farm, Mt Longdon and Hearnden Water minefields.
Only a few days have gone by and already the teams have uncovered over 60 anti-personnel mines which will be destroyed in the very near future said Mr Unsung.
He added: "Our second group finished their refresher training on Wednesday and will be joining their comrades in the next day or so, going operational by the end of the week. These teams will boost the work on the Longdon minefield complex as well as completing the clearance of Goose Green and carrying out the remaining Technical Survey of Fox Bay in preparation for future clearance."
Despite the overall small number of mines in the Falklands – compared with somewhere like Kuwait, which is only one-and-a-half times larger in size, but has an estimated five million mines – there has been an extensive demining operation in progress since 2009 to remove the estimated 20,000 anti-personnel and 5,000 anti-vehicle mines planted by the Argentine military during the 1982 conflict.
Funded through the UK Foreign Office, and in response to the obligation to remove mines in their territories under the terms of the Ottawa Treaty, the clearance of mines in the Falklands finished is currently in Phase 5a, after finishing Phase 4 which saw minefields reduced to 82. There were 146 immediately after the end of war in 1982.
Last July it was revealed that the British government has spent £ 16.604.385 in demining operations in the Falkland Islands since 2009. The information was confirmed by the Foreign Office following a (May 2017) request under the Freedom of Information Act 2000.
"This figure includes spend during the first financial year (FY16/17) of Phase 5 of demining, which the UK is only currently part way into – phase 5 commenced in October 2016".
BACTEC teams with experts from Zimbabwe have been working in the demining operations, and according to then Falklands' lawmaker, MLA Michael Poole, the Islands are expected to be rid of mines by the end of the decade. (Penguin News/MP)