Falklands toothfish longline fishery undergoing MSC reassessment
Monday, November 13th 2017 - 06:52 UTC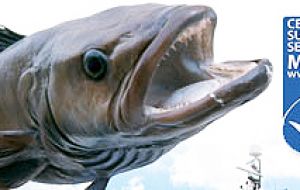 The Falkland Islands toothfish longline fishery this week will be undergoing reassessment against the Marine Stewardship Council (MSC) Principles and Criteria for Sustainable Fishing.
Dr Jim Andrews from Acoura Marine, the surveillance body conducting the assessment on behalf of the MSC, will be visiting the Islands for four days to assess the current standards of management in the toothfish fishery.
The longline fishery was first certified in March 2014 when it was demonstrated that the toothfish fishery is managed to a very high standard of stewardship by the Fisheries Department.
The fishery was subject to a total of four conditions for improvement and annual surveillances in the interim years have monitored progress on those conditions.
The current re-assessment process will certify the fishery for a further five-year period and is expected to demonstrate an all round improvement in the standards being applied to management principles.
Consolidated Fisheries, as the MSC client for the fishery, and Dr. Andrews, would like to hear from anyone who has an interest in this fishery and is interested in participating in a stakeholders meeting arranged for 10 am on Thursday November 16 at the Chamber of Commerce. If you would like to take part please contact Janet Robertson at CFL on janet.marketing@ cfl .co.fk, or 22277, by Tuesday 14th November (Penguin News).