IMF mission praises Macri's reforms but warns on inflation and budget deficit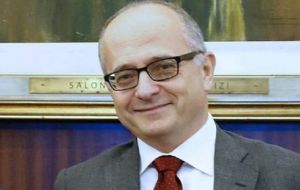 An IMF visiting team in Buenos Aires concluded its annual review of Argentina's economy and praised the efforts of President Mauricio Macri's nearly two-year-old government to transform the economy saying it has yielded "significant" gains, but also warned that risks remain.
"These, and other policy changes, have resulted in a steady recovery from the recession that began in mid-2015," IMF mission chief Roberto Cardarelli said in a statement.
The Washington-based lender forecasts growth to recover to 2.75% this year and 2.5% in 2018, after contracting 2.2% in 2016. But the fund warned that inflation, which was expected to decline, "remains stubbornly high," and the deficit has caused an increase in foreign borrowing. Together that has put "upward pressure on the real exchange rate".
"These factors pose vulnerabilities to the medium-term outlook," Cardarelli said.
"Accelerating the pace of reforms would help reduce these vulnerabilities," he said, noting the government is committed to continue reducing public spending in order to cut the taxes.
The proposed tax reform "is a good step forward," as it reduces the effective rate on low-income workers, and provides incentives to formal employment, which in turn broadens the tax base.
IMF also praised the phase out of a financial transactions tax imposed as a revenue raiser by Macri's populist predecessors in 2001, saying "remove a distortion that holds back financial deepening and financial inclusion," Cardarelli said.
However, he said, "there remains scope to remove barriers to trade, investment and firm entry, and address anti-competitive business practices. Creating quality jobs for all Argentines is the most effective and sustainable way to reduce poverty."