PM May yields and announces Brexit deal will only hold if is approved by MPs and peers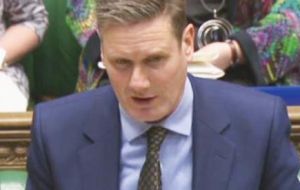 The Brexit deal covering "withdrawal" issues will only hold if it is approved by MPs and peers in a new piece of legislation to put it into British law, David Davis has said. The Brexit Secretary announced a Withdrawal Agreement and Implementation Bill, which MPs will be able to amend, to cover areas such as citizens' rights, the so-called divorce bill and a transition period.
In what will be seen as a concession to Tory rebels ahead of potential rebellions on the EU (Withdrawal) Bill this week, Mr Davis said the new legislation will provide "certainty and clarity" as Britain leaves the EU.
Amid suggestions that pro-EU Tories are willing to rebel on the Withdrawal Bill this week to ensure a meaningful vote on the Brexit deal, Mr Davis said in a House of Commons statement: "It's clear that we need to take further steps to provide clarity and certainty both in the negotiations and at home, regarding the implementation of any agreement into United Kingdom law."
"I can now confirm that once we have reached an agreement we will bring forward a specific piece of primary legislation to implement the agreement." He went on: "This confirms that the major policy set out in the withdrawal agreement will be directly implemented into UK law by primary legislation, not by secondary legislation with the Withdrawal Bill."
"This also means that Parliament will be given time to debate, scrutinize and vote on the final agreement we strike with the European Union," and this agreement "will only hold if Parliament approves it."
Shadow Brexit secretary Sir Keir Starmer said: "This is a significant climb-down from a weak Government on the verge of defeat."
"For months, Labour has been calling on ministers to guarantee Parliament a final say on the withdrawal agreement."
"With less than 24 hours before they had to defend their flawed Bill to Parliament, they have finally backed down...however, like everything with this Government, the devil will be in the detail."
"Ministers must now go further. They need to accept Labor's amendments that would ensure transitional arrangements, and protect jobs and the economy from a cliff edge."
Mr Davis confirmed in an answer to Tory former cabinet minister Owen Paterson that Britain will leave the EU on March 29 2019 with no deal if MPs vote down the new piece of legislation.
Ministers are attempting to amend the Withdrawal Bill this week to spell out that Britain's membership of the EU will formally end at 11pm GMT on March 29 2019.
But Tory potential rebel Heidi Allen said this would make Mr Davis's concession to give MPs a say on the exit deal "pointless". Another potential Tory rebel, Antoinette Sandbach, told the Press Association: "The announcement is meaningless if for any reason the timetable slips beyond March 2019."