Argentina and Chile begin Antarctic combined naval patrolling
Thursday, November 16th 2017 - 07:59 UTC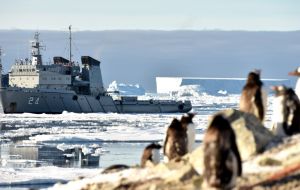 Argentina's ARA "Islas Malvinas" has started this season's Antarctic duty as part of the Antarctic combined naval patrolling, responsibility which Argentina shares with neighboring Chile since 1988.
ARA Islas Malvinas is one of four former Russian Netfegaz polar supply vessels, involved in hydrocarbons exploration and acquired by Argentina in 2014/15. They are 81 meters long and have a 2.700 tons displacement
In 1984 Argentina and Chile signed the Peace and Friendship Treaty with the purpose of safeguarding human lives, SAR, and protecting the environment in the vast Southern seas extending from the South American continent to Antarctica.
The operation depends from the Argentine Austral Naval Area and the Chilean Third naval zone, based in Ushuaia and Punta Arenas respectively and has been ongoing since 1988 and this marks the twentieth season.
In mid December the Chilean high seas tug ATF-67 "Lautaro" will take over from ARA Islas Malvinas, which will return to Ushuaia. She will resume patrolling on 23 January until 26 February 2018 and the last leg of the season until the end of April, is scheduled to fall on to "Lautaro".
In related news the Argentine navy icebreaker ARA Irizar, has returned to Buenos Aires following sea trials and an experimental trip to Antarctica, the first since 2007 when it was almost decommissioned following a fire which destroyed most of the vessel.
But after millions of dollars and almost a decade of red tape and bureaucracy, the icebreaker finally was rebuilt and made it back to sea and will act as Argentina's flagship this Antarctic season.