PM May to address European parliament leadership on 24 November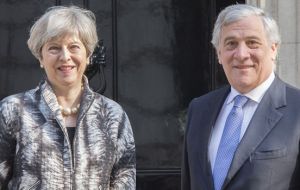 British Prime Minister Theresa May will meet the European Parliament's leadership on November 24, according to senior Parliament officials in Strasbourg. They said May will address the Conference of Presidents, the president of Parliament and the chairs of the political groups, not all MEPs.
The officials said Antonio Tajani, the president of the Parliament, told political group leaders about May's decision on Wednesday in Strasbourg. However, one of the officials said the meeting was not "fully confirmed yet."
Tajani and his predecessor Martin Schulz both invited May to address MEPs on Brexit at one of the Parliament's plenary sessions in Strasbourg or in Brussels. But May preferred to speak in the more exclusive setting of the Conference of Presidents.
The Parliament doesn't participate in the negotiations on Brexit but MEPs will have to give their final consent to any deal.