Falklands' Executive Council: MLAs Teslyn Barkman, Roger Spink and Leona Roberts
Friday, November 17th 2017 - 07:31 UTC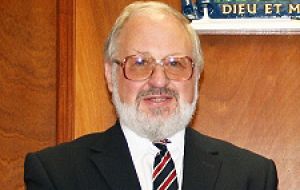 Two significant items of business were conducted during the first meeting of the newly elected Legislative Assembly of the Falkland Islands. The first was the election by members of the Speaker of the House and his or her Deputy.
The former Speaker of the House, Mr Keith Biles was chosen to resume his duties as Speaker and conducted the remainder of the session of the Assembly.
Chosen to be his Deputy was, recently retired former Clerk of the Council, Mrs. Claudette Prior.
This was followed by the election by the MLAs of three of their number to form the Executive Council.
Elected for the Camp Constituency was MLA Teslyn Barkman, for Stanley MLA Roger Spink and for both Stanley and Camp, MLA Leona Roberts. (Penguin News)