NAFTA gives priority to technical talks to avoid open political clashes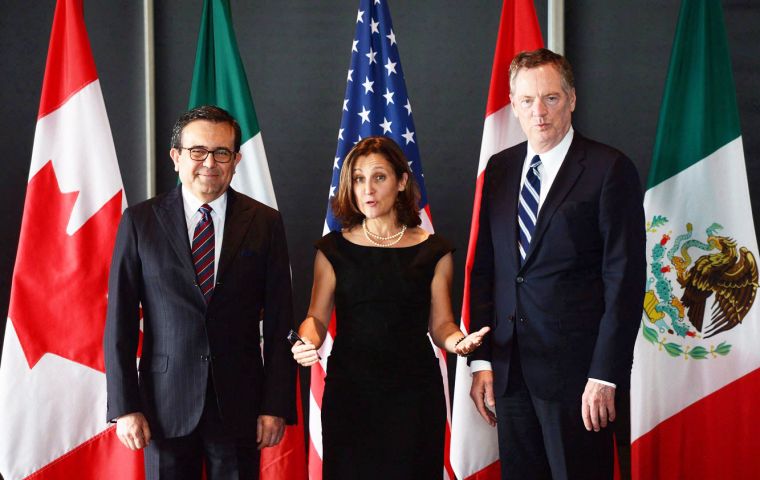 The politicians overseeing the renegotiation of NAFTA won't be meeting face to face at the end of this round of talks, unlike the previous four rounds of discussions.
According to a news release, Canadian Foreign Affairs Minister Chrystia Freeland, U.S. Trade Representative Robert Lighthizer and Mexican Secretary of the Economy Ildefonso Guajardo Villarreal do not see the need to meet, since they held bilateral talks on the sidelines of the APEC summit last week in Vietnam.
"Given the substantive discussions held between the ministers at APEC, the ministers agreed not to attend the fifth round so negotiators can continue to make important progress on key chapters advanced in Round 4," said a news release from Global Affairs Canada.
"The chief negotiators from Mexico, the United States and Canada will be in constant communication with their respective ministers and will report on the progress reached in Round 5." Allegedly the push for political leaders to take a step back from the negotiating table came from Lighthizer.
It is part of a recent shift in attitude from the U.S., which appears to be taking on a more traditional approach to the renegotiation process, not only is the U.S. advocating for letting the professionals do the heavy lifting at the negotiating table, it also strongly supported spreading talks out over a longer timeline.
Still, the US has unapologetically put proposals on the table that both Canada and Mexico have said they will not support. There are five so-called poison pills from the U.S., including demands for a sunset clause, changes to procurement rules that put Canada and Mexico at a disadvantage, increasing American content in the auto sector and dismantling Canada's protected dairy industry.
Freeland described those demands as "troubling", during a tense news conference, at the end of the fourth round of talks in October. And Donald Trump's public approach to NAFTA has not changed. He has repeatedly described the deal as bad for the U.S. and has mused about terminating the agreement.
Negotiators are expected to meet again in mid-December for another round of talks, which will not include political figures. Delegations from Canada and Mexico will travel to Washington for what the source called an 'intersession' meeting. Canada will hold the next full round of talks in 2018.