Tough day for Theresa May: EU two-week deadline, and Ireland warns about a "hard border"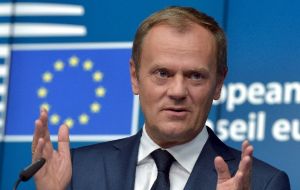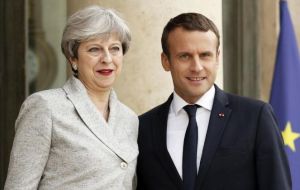 European Union President Donald Tusk warned Britain on Friday that it had until early December to make "much more progress" on divorce terms in order to unlock Brexit trade talks by the end of the year.

Reflecting growing impatience with London, Tusk's deadline followed talks with British Prime Minister Theresa May on the sidelines of an EU summit in Sweden that was meant to focus on reforms for the bloc's post-Brexit survival.

The European Union has for months demanded that Britain make "sufficient progress" on its divorce bill, citizens' rights and the Irish border in order to move on to talks about a future trade deal and transition period.

"We need to see much more progress on Ireland and on the financial settlement," Tusk, a former Polish prime minister, said at a press conference after the summit in the port city of Gothenburg.

"I made it very clear to Prime Minister May that this progress needs to happen at the beginning of December at the latest" to allow time to prepare official guidelines for a summit in Brussels on December 14 when leaders will discuss Brexit.

May and Tusk will make a further push on the issue next Friday, he said.

The EU chief was scathing when asked about comments by British Brexit negotiator David Davis that Britain had already made compromises, quipping: "I really appreciate Mr. Davis's English sense of humor."

May, whose government has been pressing for talks on the post-Brexit future while shrugging off EU pressure on the divorce terms, was more upbeat as she left the summit.

"We've agreed that good progress has been made, more does need to be done, but we're clear and I'm clear that what we need to do is move forward together," seeking the best deal for both, May said.

Under pressure at home and abroad over Brexit, May embarked on a diplomatic offensive in Gothenburg which also saw her meet French President Emmanuel Macron as well as her counterparts from Ireland, Poland and Sweden.

British media reports have suggested May could be ready to double the UK's 20 billion euro offer on the exit bill in a bid to clear what has been the most difficult hurdle in talks so far. The EU says the bill is around 60 billion Euros.

But the Irish border issue has become particularly sensitive, with Irish Prime Minister Leo Varadkar threatening to block progress in December without a "written" guarantee that there will be no "hard border" with British-ruled Northern Ireland.

"If we have to wait until the new year, or if we have to wait for further concessions, so be it," Varadkar said.

The next EU summits are in February, March and June, which would leave little time for trade talks before Britain leaves the bloc in March 2019, though in theory Tusk can summon leaders for a special Brexit meeting at any time. But Tusk's deadline does in theory give Britain an extra week to make concessions, after the EU's Brexit negotiator Michel Barnier set his own two-week deadline on November 10.