Wales and Galicia sign bilateral accord to minimize Brexit impact for fishing sector
Tuesday, November 21st 2017 - 09:27 UTC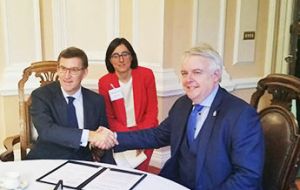 Galicia and Wales intend to sign their own bilateral agreement to try to minimize the impact that Brexit will have and avoid damage to the fishing sector. The announcement was made by Galician president Alberto Núñez Feijoo, after having obtained a positive response to his invitation to the Welsh prime minister, Carwyn Jones.
The objective of this agreement, to be signed in Santiago de Compostela, is to "guarantee cooperation" between Galicia and the United Kingdom and, in terms of fishing, "to maintain progress in common benefit".
At the inaugural session of the Conference of Peripheral Maritime Regions held in Cardiff, the United Kingdom, Feijoo said that Galicia, Wales and other 200 maritime regions signed a statement in which they propose an "orderly Brexit" that takes into account the citizens' rights and the economic interests of the fishing regions.
During his visit to Cardiff, the president of the Xunta met with the Chief Minister of Wales, Carwyn Jones, to finalize the signing of the agreement, which will take place in Santiago de Compostela.
"We need to project certainties," said the Galician president, and stressed that the British exit from the European Union should not involve the imposition of "new borders" for "maritime resources."
Fishing is a fundamental aspect for Galicia, and Fejóo was convinced that the most beneficial aspect for both parties "is a pact that goes through an exchange of fishing-market mutual access."
The head of the Galician Executive recalled that a hard Brexit "could reduce the net benefit of the fleets of the continent by 50% and the crew members' wages by 15%". (FIS)