Falklands' Concordia Bay Ferry service rescheduled due to maintenance repairs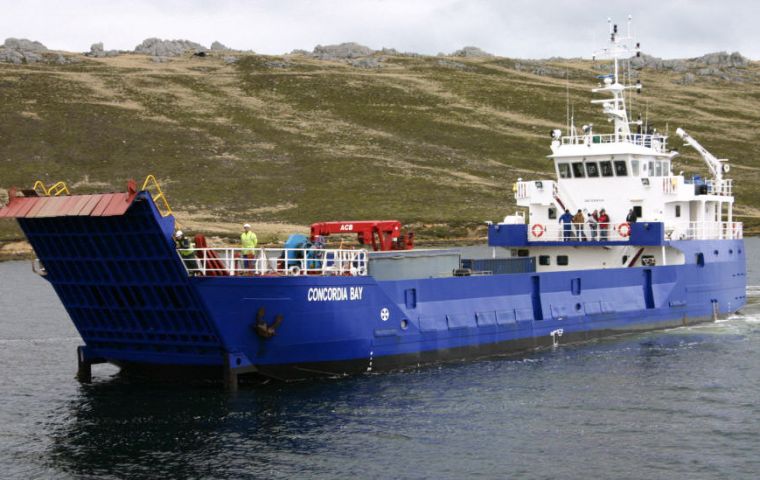 The Falkland Islands Government and Workboat Service Ltd, WSL, the company which owns the ferry linking East and West Falkland, have informed that the service will be suspended for an estimated two weeks next month, because the Concordia Bay has to undergo maintenance repairs in Punta Arenas.
"Workboat Services regret to advise customers that due to unforeseen technical issues the Concordia Bay will need to dry dock before Christmas. It is estimated that the vessel will be absent for up to two weeks for this work to be carried out.
"Accurate docking dates are yet to be received from ASMAR but it is envisaged that the vessel will be back in service shortly before Christmas.
"A revised schedule is attached, this is intended to get critical supplies and wool to and from all the islands before the vessel has to leave and to maximize time available for ferry crossings, and unfortunately this means that many of the originally scheduled ferry crossings have been cancelled. Please check the schedule carefully and contact the office with any queries and to confirm your booking.
"The intention is to keep the vessel on station and working to the last possible moment and return to work as soon as possible after the docking. Daily updates will be issued through the mailing list to keep customers up to date with progress.
"FIG are working closely with WSL to minimize this unfortunate disruption to the ferry service. As part of this effort FIG will be offering a 50% reduction to air fares and freight costs to all residents using the FIGAS service during the period that the vessel is away from the islands. This is expected to be between the 12th and 20th December 2017 but the dates will be confirmed once the final vessel departure date is known. Please note that this service is to support the absence of the ferry service and should only be used for essential items.
"WSL and FIG will provide a daily update on the disruption from now until the vessel returns.For more information, please contact Adam Cockwell on +500 22300 or by e-mail to info@workboat.co.fk".
The Concordia Bay is a 45.5m Landing craft built at Sarawak Slipways in Miri, Malaysia in 2006. She is flagged in the Falkland Islands as a passenger/cargo vessel and owned by Workboat Services Ltd. She operates in two roles in the Falkland Islands; providing a passenger and roro vehicle ferry service between East and West Falkland and as a cargo vessel delivering cargo to the outer islands.
Concordia Bay has been in operation providing the ferry service between New Haven and Port Howard since July 2008. The period since has seen a steady increase in traffic on the service with a corresponding increase in the frequency of crossings.