London lobbied successfully in Brazil on behalf of British oil industry, claims The Guardian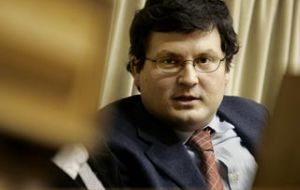 Britain successfully lobbied Brazil on behalf of BP and Shell to address the oil giants' concerns over Brazilian taxation, environmental regulation and rules on using local firms, government documents reveal, according to a piece published in The Guardian.
UK's trade minister Greg Hands travelled to Rio de Janeiro, Belo Horizonte and São Paulo last March for a visit with a "heavy focus" on hydrocarbons, to help British energy, mining and water companies win business in Brazil.
The Guardian reports that Greg Hands met with Paulo Pedrosa, Brazilian deputy minister for mines and energy, and "directly" raised the concerns of UK-based oil firms Shell, BP and Premier Oil over "taxation and environmental licensing".
Pedrosa said he was pressing his counterparts in the Brazilian government on the issues, according to a British diplomatic telegram obtained by Greenpeace.
The Department for International Trade (DIT) initially released an un-redacted version of the telegram under freedom of information rules to Greenpeace's investigative unit, Unearthed, with sensitive passages highlighted. Shortly after, the department issued a second version of the document, with the same passages redacted.
Greenpeace accused the department of acting as a "lobbying arm of the fossil fuel industry".
The UK government denies it was lobbying to weaken the environmental licensing regime, although the lobbying drive appears to have borne fruit. In August, Brazil proposed a multibillion dollars tax relief plan for offshore drilling, and in October BP and Shell won the bulk of deep-water drilling licenses in a government auction.
Rebecca Newsom, senior political adviser at Greenpeace, said: "This is a double embarrassment for the UK government. Liam Fox's trade minister has been lobbying the Brazilian government over a huge oil project that would undermine the climate efforts Britain made at the UN summit in Bonn
The document also reveals that the UK pressured Brazil to relax its requirements for oil and gas operators to use a certain amount of Brazilian staff and supply chain companies.
British diplomats described the weakening of the so-called local content requirements as a "principal objective" because BP, Shell and Premier Oil would be "direct British beneficiaries" of the changes.
The UK's drive to soften the requirements continued on the day after the meeting between Hands and Pedrosa, with a senior DIT official leading a seminar on the subject at the headquarters of Brazil's oil and gas regulator.
The UK government has come under fire in the past for providing hundreds of millions of pounds of support for Brazil's scandal-hit state oil firm Petrobras via the UK's credit export agency.
The UK's continued oil lobbying efforts in Brazil emerged days after British ministers were touting the UK's leadership on cutting carbon emissions at international climate talks in Bonn.
A DIT spokesman said: "DIT is responsible for encouraging international investment opportunities for UK businesses, whilst respecting fully local and international environmental standards. The UK oil and gas industry and supply chain supports thousands of jobs and provides £19bn in goods exports alone".