UK warned to keep to the "European model" if it targets an ambitious deal with the EU
Wednesday, November 22nd 2017 - 06:57 UTC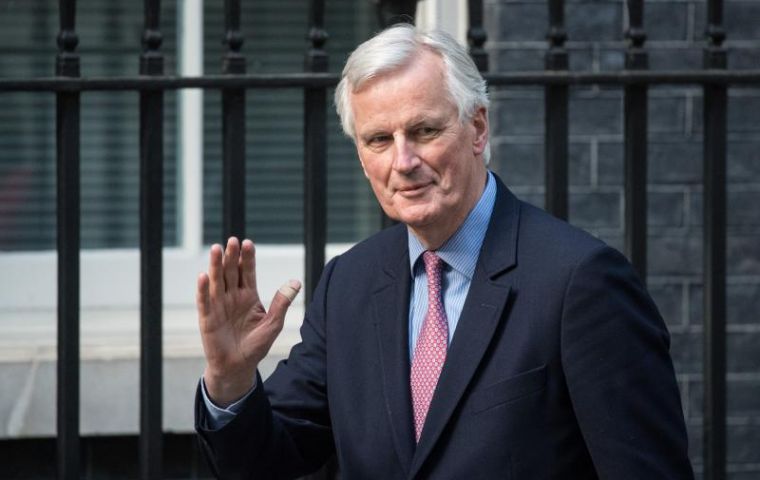 Britain's hopes of an advantageous free trade agreement with the EU could be dashed if it attempts to use Brexit as an opportunity to abandon the "European model" and transform itself into a low-tax, low-regulation economy, Brussels' chief negotiator has warned.
Michel Barnier said the EU wanted to strike an "ambitious" deal with the UK, but warned that the remaining 27 national parliaments and the European Parliament could refuse to ratify it unless Britain commits to a "level playing field" on issues like fair competition, food safety, social protections and environmental standards.
Barnier also said that Britain must come forward with proposals to avoid a hard border in Ireland – as well as settling its financial accounts "accurately" – if it wishes to make progress towards trade talks at next month's crunch European Union summit. He suggested that this could involve separate regulatory regimes for Northern Ireland and the mainland, effectively moving the border with the single market area to the Irish Sea.
Meanwhile, he confirmed that UK-based financial services firms would lose the "passport" which allows them to operate in the EU market after Brexit. He borrowed Theresa May's old catchphrase to mock those who argue that a special arrangement should be made for the sector, telling them: "Brexit means Brexit, everywhere."
His comments came as Prime Minister Theresa May prepared to chair a Downing Street meeting at which senior ministers are expected to discuss an attempt to break the deadlock by increasing Britain's offer on its "divorce bill".
Downing Street refused to comment on reports that the Cabinet's Exit and Trade (Strategy and Negotiations) sub-committee could approve a further £20 billion in payments, bringing the total offer to around £38 billion – well short of the 60 billion euro (£53 billion) sought by Brussels.
Speaking during a visit to Birmingham Mrs. May repeated that the UK would "honor our commitments" and "no other European Union country needs fear that they will have to receive less or pay in more".
European Council president Donald Tusk has set a deadline of the start of next month for breakthroughs on the divorce bill and the Irish border if the EU27 are to conclude at the December 14-15 summit that "sufficient progress" has been made to move on to the second phase of negotiations, dealing with the future trade relationship.
The prospects of progress in December were dealt a blow by the collapse of Chancellor Angela Merkel's attempts to put together a coalition in Germany, meaning that one of the European Union's most significant players will be focused on her own position and a possible re-run election rather than being fully engaged in the Brexit process.
Supporters of Brexit seized on the Chancellor's difficulties to caution Mrs May against making a further financial commitment at this point.
"Especially as Germany struggles to form a government, now is not the time for Britain to offer more money than her obligations are due in EU Brexit negotiations," said Conservative backbencher Henry Smith. "The EU27 will of course miss UK cash but no deal would damage their economies and trade surplus with us far worse."
Speaking to the Centre for European Reform, Mr Barnier said the EU was ready to move on to trade negotiations, and held out the prospect that it would offer "its most ambitious FTA approach".
But he warned; "There will be no ambitious partnership without common ground in fair competition, state aid, tax dumping, food safety, social and environmental standards. The UK has chosen to leave the EU. Does it want to stay close to the European model or does it want to gradually move away from it?
"The UK's reply to this question will be important and even decisive because it will shape the discussion on our future partnership and shape also the conditions for ratification of that partnership in many national parliaments and obviously in the European Parliament."