Argentine minister admits inflation will end 2017 at 21%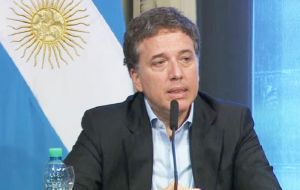 Argentina's inflation rate will likely end the year above 21%, Treasury Minister Nicolas Dujovne told reporters on Thursday. The government previously estimated that consumer prices in Latin America's third-biggest economy would rise 17% in 2017.
"Inflation is falling," Dujovne told a news conference. "Last year, we had inflation of about 37%. It will be much less this year and much lower still in the year ahead."
He did not provide details on Argentina's planned borrowing. "As long as the deficit is falling, we will have to issue less debt each year," he said.
The government expects a fiscal shortfall of 4% of GDP this year, 3.2% in 2018, 2.2% in 2019 and 1.2% in 2020.