Falklands: next month Argentine families will know results of DNA tests at Darwin cemetery
Friday, November 24th 2017 - 08:28 UTC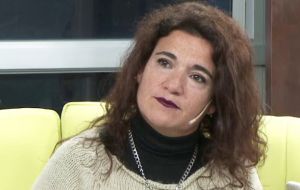 The humanitarian mission to identify the Argentine unknown soldiers fallen during the South Atlantic conflict and buried in the Falkland Islands Darwin cemetery is reaching its end, and many families will finally know, after 35 years, where the remains of their loved ones rest, according to the Buenos Aires media.
The Argentine government has started to contact the next of kin of the soldiers to inform them that during December individual meetings will be held with each family to let them know of the DNA results.
According to those reports this was confirmed by the Human Rights secretary Claudio Avruj and relatives which agreed to the DNA tests, cross checked with samples from the remains taken during last June and August by forensic experts working with the International Committee of the Red cross, ICRC.
Although the remains identification process follows an ICRC chronogram agreed by Argentina, UK, and consented by the Falklands, and which should be over by the end of the year, it was also advanced that results will not be 100% positive. In effect, "there is a very small group of families that will be told 'your loved one is not among the remains in the cemetery", said Maria Fernanda Araujo, president of the Malvinas families of the fallen.
This is not new since when the task of unearthing and re-burying the remains at the Darwin cemetery during winter months was over, it was finally discovered that in effect the number of bodies was 121, and not 123, as originally believed.. The head of the ICRC mission in the Falklands, Laurent Corbaz had then already warned that it was "very difficult", to have an overall entirely positive result.
Once the round of private contacts with the families takes off at the seat of the Human Rights Secretariat, or in different parts of Argentina for those families that can't make it to Buenos Aires, the Argentine and UK governments will receive a confidential report on the collated results, indicated the ICRC.
The above described process was contained in the joint statement which Argentina and the UK signed last year, and signaled the beginning of a new constructive spirit in bilateral relations leaving behind years of aggressive policies from the Kirchner administrations.
However the Buenos Aires media reports that the identification process does not mean that the graves which currently read "Argentine soldier, only known to God", will automatically be changed to plaques with the names of the Argentine soldiers in the Darwin cemetery. This apparently will need another round of talks between Argentina and the UK.
The articles also mention that the South Atlantic/Falklands chapter of the September 2016 joint communiqué remains mostly undelivered, for example increasing air connectivity to the Islands, and lifting the economic sanctions imposed by ex president Cristina Fernandez to weaken the Falklands' economy.