Bayer takeover of Monsanto delayed 90 days by Brazil's antitrust agency Cade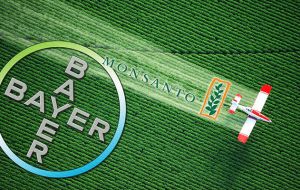 Brazilian antitrust agency Cade extended its deadline to review the takeover of Monsanto Co by Bayer AG by 90 days to late March, potentially spoiling plans to wrap up the US$66 billion tie-up by the end of the year.
A spokesman said Cade had approved the extension at a session last week, but Bayer and Monsanto declined to comment on the decision.
The proposed takeover, announced in September 2016, would create the world's largest pesticides and seeds company. Brazil is Monsanto's biggest market outside of the United States.
In February, Bayer said it was aiming to get regulatory clearances and close the transaction before the end of 2017.
The extension of Cade's review could push a decision to March 20. A ruling had initially been expected in late December. Under Brazilian law, Cade has as many as 330 days to make a final decision on any merger. Its review of the Bayer-Monsanto deal started on April 24.
Last month, a technical division of Cade said the deal could be detrimental to competition and urged conditions for Brazil to approve the tie-up. The European Commission has also pushed back the deadline for its antitrust review of the deal and now expects to make a decision by March 5.