Mexican ruling party unveils presidential candidate in the July election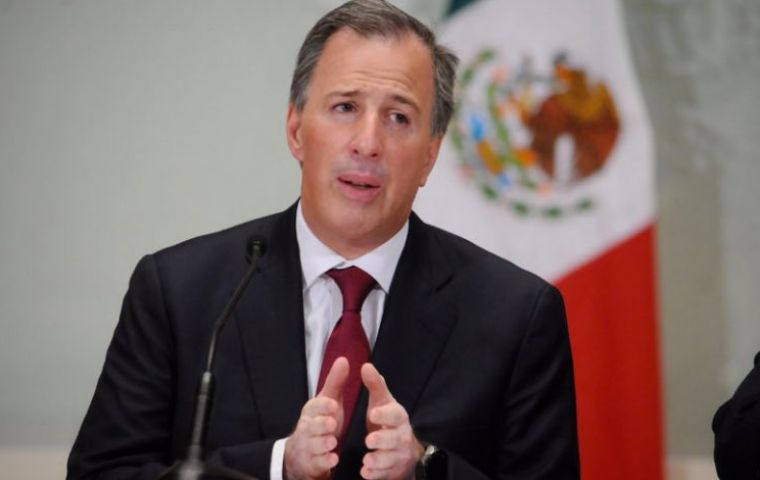 Finance minister Jose Antonio Meade threw his hat in the ring to become the presidential candidate of Mexico's ruling party in the July 2018 election, hours after resigning his post as finance minister.
Meade's resignation announced by President Enrique Peña Nieto ends months of speculation that he would step down from the cabinet in order to seek the nomination of the president's Institutional Revolutionary Party. The president also said that Jose Antonio Gonzalez Anaya will step down as CEO of Petroleos Mexicanos become finance minister.
"I do this with deep conviction and emotion, my only wish is to serve my country," Meade said at an event in Mexico City Monday afternoon.
Meade, a 48-year-old economist with a doctorate from Yale University, was in his second turn as finance minister. He served in four cabinet posts for presidents from rival parties, including a year as social development minister, where he was the public face of Peña Nieto's efforts to combat poverty in the nation's poorer south. Meade has not been tainted by corruption scandals that have plagued the upper echelons of Mexico's government. That has led some to tout him as the scandal-plagued PRI's best option for the 2018 presidential race.
"I wish him the best of luck in the project he has decided to undertake," Peña Nieto said, without giving details on Meade's next assignment.
Some think Meade would make a better fit as central bank governor, taking over from Agustin Carstens, who leaves this week to lead the Bank for International Settlements. In a June interview, Meade said the central bank would be able to cut borrowing costs as early as the end of this year.
Meade emerged as an option for the presidential race after some of Peña Nieto's closest allies, and potential successors, were hit by allegations of a conflict of interest, as is the case for Foreign Minister Luis Videgaray, or faced criticism for surging violence, such as Interior Minister Miguel Angel Osorio Chong. A 2015 probe by the country's public comptroller cleared Videgaray of any wrongdoing in his purchase of a home from a government contractor.
Mexico City-based newspaper El Universal first reported on Meade's departure late Sunday and said Interior Minister Miguel Angel Osorio won't compete for the PRI candidacy.