ARA San Juan: since Falklands' conflict, Buenos Aires and London have never been closer
Thursday, November 30th 2017 - 07:53 UTC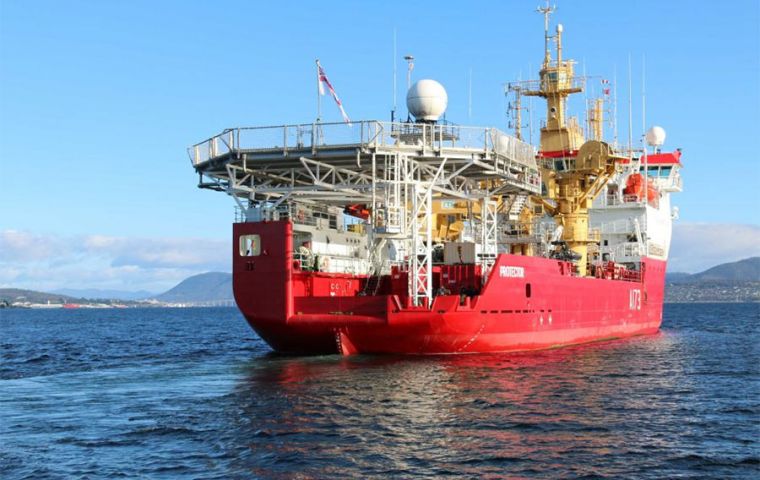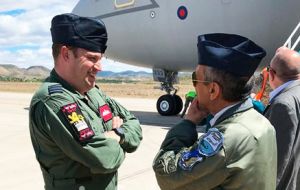 Under the suggestive heading, Clarin correspondent Maria Laura Avignolo writes that the Argentine tragedy of the submarine ARA San Juan has brought ever so close Argentine and British military for the first time since the Falklands conflict. And not surprisingly the support effort includes using the MPA complex in the Islands, if needed.
The daily says Britain, under coordination between Ambassador Mark Kent and the Ministry of Defense, has offered "unconditional aid" and has joined the other fourteen countries that are involved in the search of the missing submarine. UK's contribution includes a Hercules C 130, Ice patrol HMS Protector with all its sea bottom capabilities, Falklands' patrol HMS Clyde, and a few days ago an RAF Voyageur landed in Comodoro Rivadavia in a direct flight from Brize Norton.
Clarin says that the major submarine SAR operation in the XXI century, because of the international effort, includes British experts and marines working from the Belgrano naval base and Comodoro Rivadavia, together with the British military attaché in Buenos Aires. MPA in the Falklands is also available as part of the rescue effort for any aircraft that might need it.
"UK Secretary of Defense Gavin Williamson offered solidarity and total support to the Argentine military attaché in London, Commodore Fernando Luis Mengo, during a ceremony at Lancaster House and pledged no aid will be spared in the search operation".
Clarin then speculates that MoD wants to play a positive role by instructing that no mention is made to the 1982 conflict or the obsolete conditions of the Argentine navy, and the fact that a UK embargo on spares and equipment for Argentine frigates powered by Rolls Royce turbines still stands. Without forgetting the current tight UK defense budget.
Argentine sources point out that UK support in "unconditional" and they are paying for the bill. Allegedly UK´s efforts are supported on the 1910 Brussels Assistance and Salvage at Sea Convention.
However as days go by, the Clarin piece says that there is a growing consensus that the submarine, following the onboard explosion could have fallen beyond the continental shelf where depth drops to 3.000 meters which makes the rescue virtually impossible and there is no way the submarine could have survived pressures beyond 600 meters.
Likewise the Comodoro Rivadavia court which is responsible for the missing submarine case has requested that the military secret surrounding the ARA San Juan mission be lifted, as part of the ongoing judicial investigation.