Argentina as G20 chair will combat protectionism, pledges president Macri
Friday, December 1st 2017 - 06:42 UTC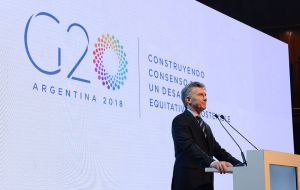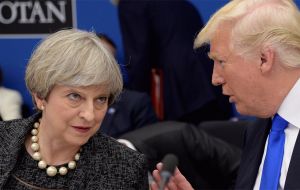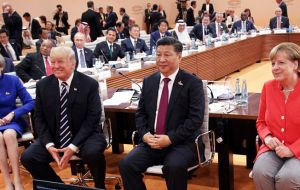 President Mauricio Macri hosted the official launching of the Argentine chair of G20, the world's major forum for global economic, political, and financial cooperation. In his inaugural speech Macri said Argentina is committed "to build consensus for fair and sustainable development" and will use its role as the first South American country to chair the G20 group of major economies to combat protectionism.
The Argentine president and his market-friendly government said the G20 chair was a chance to mark the country's rise as an "important place" in the world, and boost Latin America's profile.
"We are going to put at the center of the G20 the aspirations and concerns of the developing region, which is keen for new opportunities," Macri said at the Thursday event in Buenos Aires formally inaugurating Argentina's G20 presidency.
The full-throated defense of globalization comes at a time when Donald Trump's presidency in the United States and Britain's pending exit from the European Union have raised questions about major economies' commitment to free trade.
Before President Macri took to the podium, world leaders broadcast special messages of support to the Argentine G20 presidency. President Xi Xinping of China sent an official letter, while Prime Minister Shinzo Abe of Japan and Chancellor Angela Merkel of Germany conveyed their support via video address.
"An important part of what we're doing at the G20 has to do with the major goal we have in Argentina: to reduce poverty," he said, underlining the three priorities of the Argentine chair, the future of work and jobs, infrastructure for development, and food security.
"G20 is more than just a summit", explained Cabinet Chief Marcos Peña, "it is made up of over 50 meetings that will be held in 10 different cities, welcoming 20,000 people from over 30 countries" he declared at the launch.
This will be the first G20 presidency in South America and for Argentina an opportunity to help craft global policy Peña explained to the auditorium's guests.
"Today's event represents the bringing together of all areas of government, so that all our institutions and our citizens themselves feel that we are working as a team to make sure that the G20 makes a valuable contribution to the world, humanity, and to our country."
"The G20 is an ideal place to continue reaffirming the benefits of greater trade ties, especially for countries like Argentina that want to export their agricultural products," Treasury Minister Nicolas Dujovne said in a press conference following Macri's speech.
Argentina will host more than a dozen events related to the G20 over the next year, culminating in a leaders' summit in late November 2018. Since the 2008 global financial crisis, the G20 has been the leading forum for world leaders to co-ordinate economic policy. The last presidency was held by Germany.
G20 summits often attract protests, and can be a target for attacks. Cabinet Chief Marcos Pena said Argentina had been preparing security plans for several months, with other countries' co-operation. "Argentina is a very safe place".