Cristina Fernandez appeal rejected; money laundering and criminal conspiracy case goes forward
Friday, December 1st 2017 - 07:20 UTC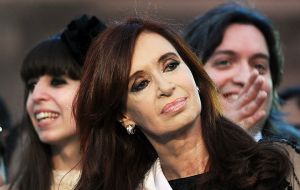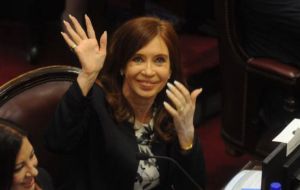 An Argentine court on Thursday rejected an appeal filed by Cristina Kirchner to dismiss charges that she engaged in money laundering, allowing a criminal case against the former president to go forward.
The ex president faces charges including money laundering, bribery and criminal conspiracy in the so-called Hotesur case, named after a Kirchner family hotel business in Patagonia, the suspected source of the allegedly laundered funds.
The rejected appeal also applies to her children Maximo, 40, and Florencia, 27, according to the Center for Judicial Information.
Funds belonging to the accused have been frozen: 110 million pesos (US$7 million) each for Cristina and Maximo Kirchner, and 100 million pesos (US$5.5 million) for Florencia.
Cristina Fernandez de Kirchner, Argentina's president from 2007-2015, won a seat in the Senate for Buenos Aires province in last month's legislative elections, a position she will assume on December 10. In Argentina, parliamentary immunity protects against arrest but does not prevent judicial cases from going ahead.
Kirchner submitted a request to Judge Julian Ercolini this month asking that the case be dismissed.
"There are at least seven firm judicial decisions which, after analyzing the same acts, have ruled out the existence of any type of illicit activity," Cristina Fernandez wrote.
On Twitter, she described the case as a "new chapter of judicial persecution order" by President Mauricio Macri, who succeeded Kirchner in 2015.
Several prominent members of her former government have been detained on corruption charges in recent weeks, including ex-public works minister Julio De Vido and Amado Boudou, Kirchner's vice-president from 2011-2015