Falklands expecting a "pretty good" 2017/2018 cruise season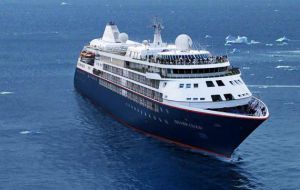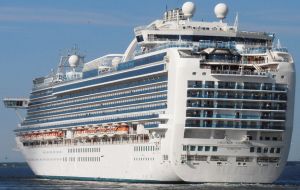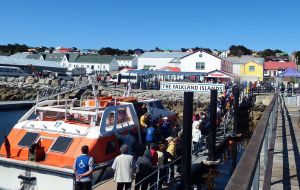 Despite the cancellation of two planned ship visits in November, Falkland Islands agencies are optimistic about the prospects for the 2017/18 cruise season. Carli Sudder of Sulivan Shipping Ltd told Penguin News she thought the season was looking "pretty good" with some new ships like Silver Muse (capacity 590) and the return of others like Island Sky (capacity 114).
However Silver Cloud (capacity 200) had to cancel her planned visit last visit due to mechanical problems. Now on the register of expedition ships she will be coming to the Falklands in that capacity on two occasions. As well as calling at Stanley, on her first visit, December 23 and 24, she will visit West Point and New Island and on her second, March 2 and 3, she visits Steeple Jason and West Point.
In terms of large ship visits, the coming month is fairly quiet; Zaandam (capacity 1440), which had to cancel last week because of high winds is scheduled to make two visits on the 6th and 31st, while Emerald Princess (capacity 3,114), is due to arrive in Stanley on December 28.
January and February look to be extremely busy with eight visits to Stanley of ships carrying over 500 passengers in each month. There are also many other visits from the smaller expedition ships, which also visit New Island, Carcass Island, West Point, Saunders Island, Steeple Jason and Sealion Islands. Stacey McKay of FIC, who are agents for the Holland America Line, is also confident about the season to come, despite the cancellation of the Vaandam's first visit.
There are some busy days ahead for her FIC team like February 20, 21 and 22 with a large ship on each day bringing a possible total of 5,738 passengers coming ashore. If this sounds daunting it could have been worse because originally two of those ships: Island Princess (capacity 1,974) and Emerald Princess (capacity 3,114) were due to arrive on the same day. This has happened sometimes in previous seasons stretching the capacity of onshore tour providers to the limit and risking a reduction in the quality of the visitors' experience.
Fortunately, says Stacey, the fact that both ships belong to the same company made it easier to persuade them to avoid clashing. The Emerald Princess should be back in Stanley on March 6, followed two days later by Zaandam.
Midnatsol (Capacity 500), possibly the largest of the expedition ships in terms of passenger capacity, calls into Stanley on March 9, before heading to New Island the following day.
But the last of the large ships to visit this season should be rare visitor, Sirena (Capacity 684) on March 15.
Other expedition ships such as the previously mentioned Silver Cloud, National Geographic Explorer, Le Lyrial, Polar Pioneer and Ocean Adventure, are around the Islands until March 25, with Polar Pioneer bringing the cruise ship season to a definite halt when it calls into Stanley for a passenger exchange on Saturday April 7. (Penguin News)