Falklands response to results of the ICRC humanitarian forensic identification project
Friday, December 1st 2017 - 20:51 UTC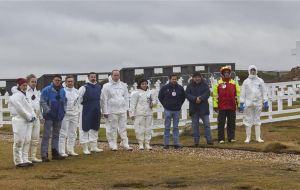 The Falkland Islands government has released a response to the results of the International Committee of the Red Cross humanitarian project to identify the remains of the Argentine combatants buried at the Darwin cemetery. The project was the result of a December 2016 agreement between United Kingdom and the Argentine governments, facilitated by the Falklands government.
The Falklands government in the release reaffirms its commitment to work with all parties "to ensure that the next steps taken in each case are respectful, compassionate and put the wishes of the families first and foremost"
The release says that, "Following the establishment of the Humanitarian Project Plan in December 2016, we note that the International Committee of the Red Cross (ICRC) has today reported the findings of its analysis into the identification of the remains of unidentified soldiers buried in the Falkland Islands.
"This work, which was undertaken at the Argentine cemetery, has been facilitated by the Falkland Islands Government, which has provided support throughout the process in order to ensure that the ICRC team were able to carry out their investigations in a timely manner.
"Chair of the Legislative Assembly, Ian Hansen MLA said: "We have provided our full support to representatives of the ICRC since this humanitarian project began. We understand the importance of this work in helping to find answers for families who have been waiting for a considerable time.
"Our members sincerely hope that the information the ICRC has provided will help the loved ones of these fallen soldiers to decide how they would now wish to proceed. We would like to provide our assurance that, as a Government, we will continue to work closely with all parties to ensure that the next steps taken in each case are respectful, compassionate and put the wishes of the families first and foremost"