Red Cross delivers report on unidentified Argentine combatants buried in Falklands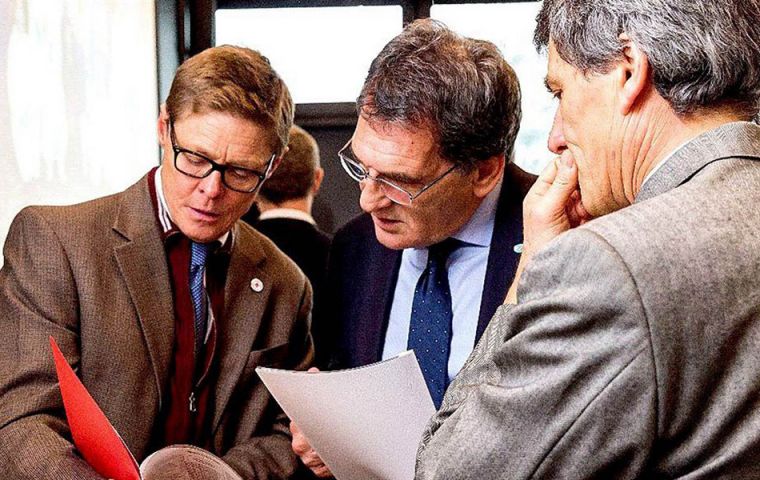 The International Committee of the Red Cross is scheduled on Friday to hand the Argentine government the final report on the 121 graves of unknown Argentine combatants who fought in the South Atlantic conflict in 1982 and are buried in the Darwin cemetery, and whose remains were analyzed for identification earlier this year by a forensic team.
According to reports from Argentine sources the report will be received in the seat of ICRC in Geneva, by the Argentine Secretary of Human Rights, Claudio Avruj, in a meeting where representatives from the British government will also be handed a copy.
With the information in hand, the Argentine government will commence next week in Buenos Aires a round of individual interviews with the relatives of the combatants buried in Darwin, to inform them of the DNA analysis results. The process of contacting all families is expected to last the whole of December, and will culminate with a trip to the Falklands so they can pay homage to their loved ones, place identification plaques in the graves, which until today, 35 years later remain under the heading of "Argentine soldier only known to God".
The process of exhumation, analysis, documentation and dignified reburial of the remains in 121 graves demanded seven weeks, from 20 June to 7 August earlier this year and was the result of an agreement between United Kingdom, Argentina and the consent from the Falkland Islands, under the auspices and responsibility of the ICRC, working with a multinational team of forensic experts.
The DNA samples from the remains were flown to the much respected Argentine, Forensic Anthropology Team, in its Cordoba branch where they were cross checked with the DNA samples of potential next of kin, who volunteered for the process.
DNA samples were also sent to similar labs in the UK and Spain, to ensure the quality and analysis of the whole operation.
However although the identification process has kept strictly to the ICRC agreed chronogram, it was also advanced that results will not be 100% positive. In effect, "there is a very small group of families that will be told 'your loved one is not among the remains in the cemetery", said Maria Fernanda Araujo, president of the Malvinas families of the fallen.
It must be pointed out that this is not new since when the task of unearthing and re-burying the remains at the Darwin cemetery during winter months was over, it was finally discovered that in effect the number of bodies was 121, and not 123, as originally believed..
The head of the ICRC mission in the Falklands, Laurent Corbaz had then already warned that it was "very difficult", to have an overall entirely positive result.