World's biggest marine reserve in Antarctica's Ross Sea comes into effect
Saturday, December 2nd 2017 - 08:56 UTC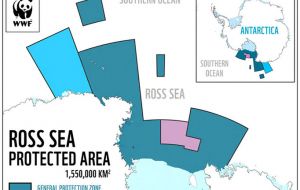 The world's biggest marine reserve in Antarctica officially comes into effect on Friday, in what has been hailed as a "watershed" moment in conservation. The marine protected area in the Ross Sea curbs damaging activities such as fishing, to protect wildlife including Adelie and emperor penguins in the high seas off Antarctica.
Agreement was reached in October 2016 by the Commission for the Conservation of Antarctic Marine Living Resources, which is made up of 24 countries, to protect 1.55 million square kilometers (600,000 square miles) of the Ross Sea.
Some 72% - 430,000 square miles - of the marine protected area is a "no-take" zone where all fishing is forbidden, while other areas will allow some harvesting of fish and krill for scientific research.
British endurance swimmer Lewis Pugh completed a series of swims in the freezing waters around Antarctica to call for the marine reserve in the "pristine" waters of the Ross Sea. He also engaged in "Speedo diplomacy", travelling between the US and Russia to help negotiate the final agreement, which the Russian government had initially sought to block.
Earlier this month, Mr Pugh swam a kilometer in the icy, dangerous waters of South Georgia to urge the British Government to better protect the waters around the UK overseas territory. He is campaigning for the creation of a series of marine protected areas around Antarctica by 2020 which would protect a total area roughly the size of Australia.
As the Ross Sea protected area comes into force, he said: "All the freezing swims I undertook in the Ross Sea in 2015 were now absolutely worth it. The creation of Ross Sea marine protected area is a watershed moment in the history of conservation. It's not just the largest protected area in the world, but it's the first large scale marine protected area in the High Seas.
"As such, it sets a very important precedent. But the real work starts today - we now have to intensify our efforts to protect the remaining seas around Antarctica. Our futures really do depend on it."
He urged the UK Government to take the "next step" in protecting the waters around Antarctica by boosting protection around South Georgia and putting in place a fully protected "no-take zone" round the neighboring South Sandwich Islands.
"These islands in the Scotia Sea are one of the most important biodiversity hotspots in the whole world, and it's crucial we protect them from rapid climate change and industrial over-fishing."