UK cabinet minister tells hardliners: "it's Brexit or no Brexit; Support PM May"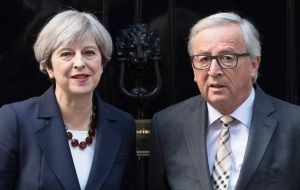 There will be no Brexit at all unless Theresa May is supported, Health Secretary Jeremy Hunt warned saying it was not about a choice between "this Brexit and that Brexit". He was speaking as leading Brexit campaigners issued demands for Mrs May before agreeing any payments to the EU, including ending the European court's jurisdiction the moment the UK leaves.
The UK voted for Brexit last year and is due to leave in March 2019. But negotiations between the EU and the UK have not yet reached a breakthrough.
Mr Hunt's remark, in an ITV interview, came as he defended the PM and sought to reassure critics that UK courts would be supreme after Brexit.
He added: "I think there's an even bigger point here, that the choice we face now is not between this Brexit and that Brexit; if we don't back Theresa May we will have no Brexit - and she is doing an unbelievably challenging job amazingly well."
Mrs. May is due to travel to Brussels on Monday for talks with European Commission president Jean-Claude Juncker, hoping the EU will agree that "sufficient progress" has been made so far to begin trade talks.
The talks so far have focused on what happens to citizens' rights after Brexit, the amount of money the UK will pay, and the future of the Irish border.
On the "divorce bill", the UK is understood to have recently increased its offer, which could be worth up to 50bn Euros (£44bn).
There has also been lots of focus on the Ireland question in recent weeks, with the Irish government seeking more information on the "frictionless border" the UK wants to establish so customs checks are not needed.
The EU will only move on to talk about future issues like trade when "sufficient progress" has been made on these subjects - and is due to decide whether this has happened at a summit on 14 and 15 December.