Anniversary of the Battle of the Falkland Islands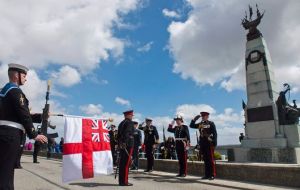 Gilbert House, seat of the Falkland Islands elected government announced the following program for Friday 8th December 2017 to commemorate the victory of the Naval engagements of 8th December 1914, on which day 6 British sailors lost their lives and a number of others died later from injuries received during the battle. 2,260 German sailors also lost their lives.
At about 10.35am, a detachment of the Falkland Islands Defense Force and the Associations will march to the Battle Memorial.
At 10.58am His Excellency the Governor will arrive at the Battle Memorial and will inspect the Parade. Youth Groups will be in attendance.
After prayers His Excellency the Governor will lay a wreath, followed by MLA Stacy Bragger, the Commander British Forces South Atlantic Islands, and representatives of the Royal British Legion and Associations.
Members of the public wishing to attend the ceremony are asked to arrive no later than 10.50 am. After the ceremony there will be a march past. His Excellency the Governor, MLA Stacy Bragger and the CBFSAI, will take the Salute from a dais at the entrance gates to Government House lawns.
It is appropriate for decorations and medals to be worn on this occasion. Gilbert House Stanley.
It has also been notified for general information that Friday, 8th December 2017 is Battle Day and will be a Public Holiday. All Government Departments, other than those providing essential services, will be closed.