Malvinas relatives of soldiers buried at Falklands Darwin cemetery are informed on the Red Cross report
Tuesday, December 5th 2017 - 07:26 UTC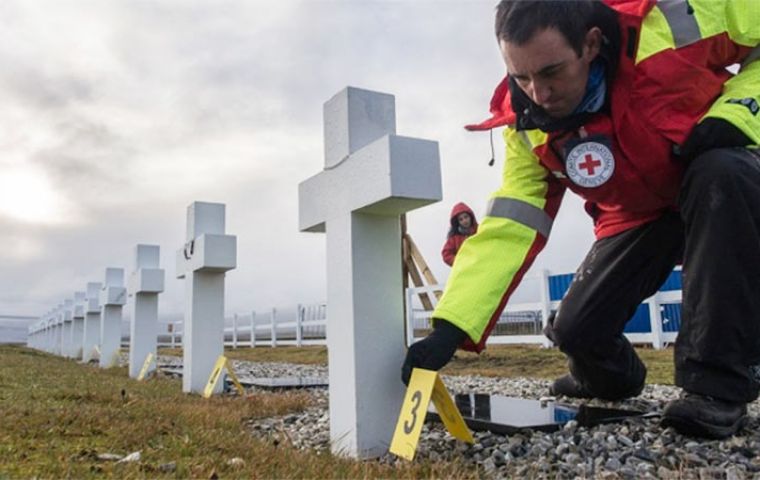 Two groups of four families of Malvinas fallen combatants will be informed on Tuesday of the results of the identification of Argentine soldiers buried in the Falklands Darwin cemetery, contained in the report delivered last Friday by the International Committee of the Red Cross.
The first group will be received in the morning at the Human Rights Secretary in Buenos Aires, and the second in the afternoon, when they will know whether there is a match between the DNA samples of the remains at Darwin and their families.
The ICRC report advanced on Friday indicated that of a total of 121 graves, 88 have been clearly identified, percentage which is considered extremely high by world standards, but which obviously will not satisfy the hopes of all the families.
Darwin cemetery or Argentine memorial holds 230 graves of which 121 are unidentified with a simple tombstone that reads, "Argentine soldier, only known by God". Actually 123 graves were unearthed, remains exhumed, DNA samples taken, as well as any personal belongings, and reburied in a proper coffin, with extreme care and dignity.
Between last June and August a team of fourteen international forensic experts from six countries including Argentina and the United Kingdom worked at the cemetery, and samples taken which were later checked with those of 107 families that consented to the identification process.
The humanitarian process was conducted by the ICRC, following an agreement between United Kingdom and Argentina, and facilitated by the Falkland Islands Government, which provided support throughout the process in order to ensure that the ICRC team were able to carry out their investigations in a timely manner.
Families will be received by Claudio Avruj, head of the Human Rights Secretary, and a team of officials and experts will hold a private interview with each of the families and inform them of the identification process.
Another team of inter-disciplinary experts will be travelling on Wednesday to meet families in the northern province of Chaco, from where many of the conscripts sent to fight in the Falklands came from.
Besides informing the families of the ICRC results, some of them will be receiving personal belongings which were collected when remains were exhumed such as rings, crucifixes, IDs, religious cards, matches, rosaries and even what is left of letters that soldiers held dearly in the pockets of their uniforms.
Once the overall communication process is completed, which is scheduled to take all of December, the next step is to organize a humanitarian trip for the families to the Falkland Islands to visit the Darwin cemetery so that they can identify, with plaques, the tombs of their loved ones.