Honduran electoral authorities agree to a recount of 5.000 polling stations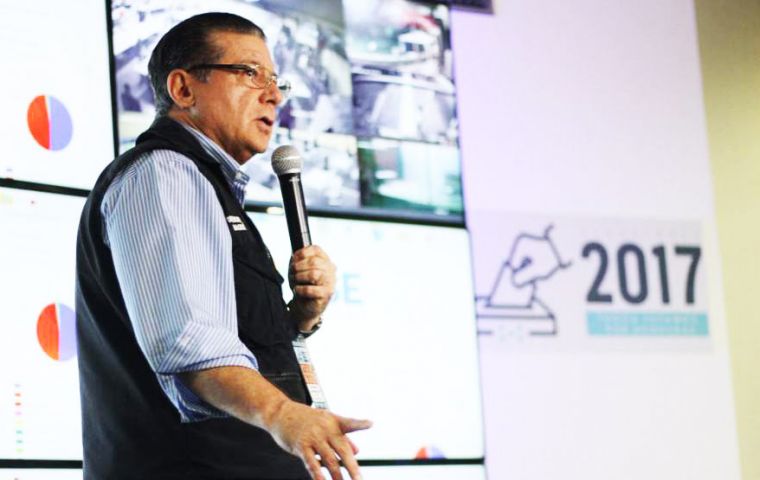 Honduran electoral authorities on Tuesday agreed to opposition demands for a recount of returns from more than 5,000 polling places, representing almost 30% of all voting sites in last week's disputed presidential election.
"We are going to review the [ballots], and if there are discrepancies we will look at them to see what the problem is," said David Matamoros, chief of the country's electoral tribunal.
The move was a significant concession to the opposition candidacy of Salvador Nasralla, a television personality who, according to official results, finished a close second in the balloting to incumbent President Juan Orlando Hernandez.
Nasralla and his backers have alleged widespread fraud and charged that the election was being "stolen" by electoral officials beholden to Hernandez's National Party. Critics have taken to the streets to protest since the Nov. 26 balloting.
Opponents have also derided the electoral tribunal as a tool of the incumbent president, an allegation denied by Matamoros, the tribunal president and former federal deputy of the ruling National Party. Electoral authorities have yet to declare an official winner.
The uncertainty and delays in presenting final results have created a political crisis that has engulfed this Central American country, one of the hemisphere's poorest and most violence-prone nations.
Officials declared a dusk-to-dawn curfew last week as pro-opposition demonstrations devolved into episodes of looting and violent clashes between protesters and police.
On Monday, members of the national police said they would no longer take any actions against protesters. But police and army units are still patrolling the streets and the night curfew remained in place.
Nasralla, the opposition standard-bearer, praised the police for rejecting the government's acts of "repression and murder."
The police stoppage demonstrated the "fragility" of the situation, said one international observer, who requested anonymity because he was not authorized to speak publicly.
Results show that with the official tally complete, Hernandez garnered 42.98% of the vote, compared with 41.38% for Nasralla, who ran under the banner of a coalition against "dictatorship."
On Tuesday, electoral officials invited members of the opposition to sit in on the recount of ballot boxes from 5,179 polling sites across the country. The opposition has identified tallies from those areas as having unspecified "anomalies."
But in a Twitter message on Tuesday, Nasralla suggested that the electoral board conduct a recount of results from all of the more than 18,000 polling places. He also proposed holding a "second round" runoff between himself and Hernandez.
International vote-monitoring teams from the United Nations, European Union and Organization of American States have urged electoral authorities to ensure that the results are viewed as legitimate. The U.S. Embassy has also urged a transparent process. Honduras is a major U.S. ally. Hernandez and the Honduran military enjoy warm relations with Washington.