Two men charged in London with terror offenses including a plot to kill PM May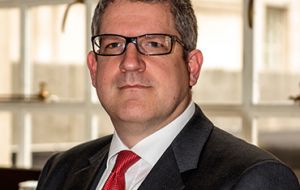 Two men were charged Tuesday in London with terror offenses over an alleged plot to kill British Prime Minister Theresa May, according to British government officials. Both will appear before a court Wednesday in the British capital in connection with what officials say was a conspiracy to launch a suicide-knife attack on Downing Street, the official home of the prime minister.
News of the foiled assassination plot broke shortly after the head of Britain's domestic intelligence service MI5, Andrew Parker, had briefed the cabinet on the terrorist threat and informed ministers that his service had thwarted nine terrorist attacks this year.
He informed ministers of the plot during the briefing, although the information was held back from the media for several hours.
Both of the conspirators were arrested last week in raids by counterterrorism officers in London and Birmingham, according to police officials. One of the men, named as Naa'imur Zakariyah Rahman, 20, is accused of preparing acts of terrorism.
He was allegedly carrying two improvised explosive devices, which were inert, when he was arrested November 28 in London. His suspected co-conspirator was named as 21-year-old Mohammed Aqib Imran. He was seized 90 minutes later in a raid on a house in Birmingham in the English Midlands.
Imran also is accused of previously trying to secure a fake passport in a bid to reach Libya to join the Islamic State affiliate in the North African country.
According to officials, both men were plotting a bomb assault on the security gates protecting the entrance of Downing Street. Rahman then allegedly planned to storm Number Ten, wearing a suicide vest and using pepper spray and a knife, in an effort to kill Theresa May.
A Downing Street spokesman said earlier that Parker had told cabinet ministers that while Islamic State had suffered serious defeats in Iraq and Syria, "this did not mean the threat is over, rather it has spread into new areas, including trying to encourage attacks in the U.K. and elsewhere via propaganda on social media."
The disclosures about the Downing Street plot came hours after an official report was released on last year's Manchester bombing and other terror attacks on the British capital. According to the report undertaken by David Anderson, British security forces had missed opportunities to thwart the Manchester attack. The report confirmed that the ringleader of the London Bridge knifing spree had been under investigation by MI5.
The Anderson report revealed that the Manchester suicide bomber, British-Libyan Salman Abedi, had been flagged for closer scrutiny by the security services and that his bombing of the audience at an Ariana Grande concert in which 22 people died could have been averted "had the cards fallen differently."
He said MI5 investigators had misinterpreted intelligence on Abedi. His case was due to be considered at a meeting scheduled for nine days after his May 2016 attack at the Manchester Arena.