Brazil cuts rates to an all-time low, 7%, and hints at another reduction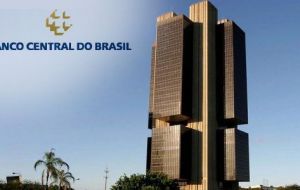 Brazil's central bank cut interest rates to an all-time low on Wednesday and hinted at a smaller reduction early next year, although it said it would be extra cautious going forward. The bank's nine-member monetary policy committee, known as Copom, cut the benchmark Selic rate by 50 basis points to 7.00%, capping a 725 basis-point decline since October 2016.
In the policy statement announcing the decision, the bank said it could make another, smaller rate cut at its next meeting in February, reinforcing expectations of a 25 basis-point reduction as the end of the rate-cutting cycle draws near.
Still, the Copom "views this guidance as more susceptible to changes in its baseline scenario and balance of risks than in previous meetings," it said in the statement.
"Going forward, the Committee judges that the current stage of the cycle recommends caution in conducting monetary policy."
The remarks highlight the uncertainty surrounding the Brazilian economy as government efforts to curb the growth of public debt hang in the balance and inflation remains stubbornly below the official target.
The Committee judges that its baseline inflation scenario has evolved, to a large extent, as expected. Inflation developments remain favorable, with various measures of underlying inflation running at comfortable or low levels. This includes the components that are most sensitive to the business cycle and monetary policy;
"Inflation expectations for 2017 collected by the Focus survey retreated to around 3.0%. Expectations for 2018, 2019, and 2020 remain around 4.0%, 4.25%, and 4.0%, respectively.
"The Copom's inflation projections in the scenario with interest rate and exchange rate paths extracted from the Focus survey stand around 2.9% for 2017, 4.2% for 2018, and 4.2% for 2019. This scenario assumes a path for the policy interest rate that ends 2017 and 2018 at 7.0%, and 2019 at 8.0%.
"The Committee emphasizes that its baseline scenario involves risks in both directions. On the one hand, the combination of (i) possible second-round effects of the favorable food price shock and of low current levels of industrial goods inflation, and (ii) the possible propagation through inertial mechanisms of low inflation levels may lead to a lower-than-expected prospective inflation trajectory. On the other hand, (iii) frustration of expectations regarding the continuation of reforms and necessary adjustments in the Brazilian economy may affect risk premia and increase the path for inflation over the relevant horizon for the conduct of monetary policy. This risk intensifies in the case of (iv) a reversal of the current benign global outlook for emerging economies".