Mercosur and EU confident a framework agreement will be announced this month
Thursday, December 7th 2017 - 09:01 UTC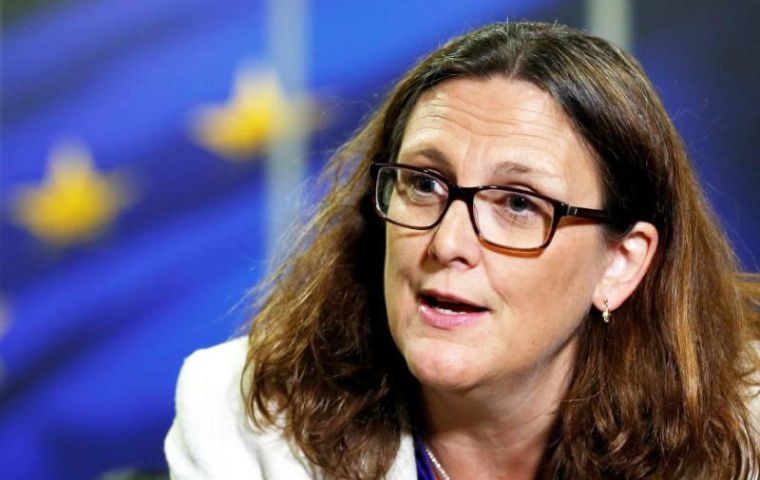 Mercosur is confident a framework agreement with the European Union will be announced next week despite resistance from farmers in Europe to permit tariff-free beef imports, a Mercosur official said. "There is more than a 70% chance of reaching a deal," said the official close to the negotiations that have dragged on for almost two decades.
The EU-Mercosur accord would be announced on the sidelines of next week's World Trade Organization meeting of ministers in Buenos Aires and could be signed in mid-2018 once all the legal technicalities have been checked, he said.
Negotiators exchanged improved offers in Brussels this week, though they did not include new offers by the EU for access for South American beef and ethanol, the biggest hurdles to an agreement. Those offers will be made in Buenos Aires, most likely on Sunday before the WTO meeting gets off, the official said.
Mercosur members Brazil, Argentina, Paraguay and Uruguay are pushing for an improvement on the EU offer of tariff-free imports for 70,000 tons a year of beef and 600,000 tons of ethanol a year. They complain that it is lower than the 100,000-ton offer the EU made in 2004, though EU negotiators say Europeans eat less meat today.
"I'm pretty confident that things are on a good track," the Mercosur official said. "Beef and ethanol will be tough issues for ministers next week but finding quotas for both is not beyond reach." He added, however, that he did not expect Mercosur would be willing to close at anything below 100,000 tons of beef.
Failure to end the battle over beef has threatened to push the trade talks beyond a year-end deadline and lead to further years of delays.
EU Trade Commissioner Cecilia Malmstrom said on Tuesday that the parties are close to an agreement.
"We are committed to doing this as soon as possible because we are almost there and because there is a momentum and because next year, if it drags on too long, there will be election campaigns and we will risk losing that momentum," she said.
Resistance to Mercosur beef imports has come from farming countries such as France, Ireland and Poland. French President Emmanuel Macron has said France was in no hurry to reach a deal with the Mercosur.
The Irish Farmers' Association has called the trade negotiations with Mercosur "toxic" and said the European meat market is being sacrificed for the sake of a deal with the South American bloc. Brazil's powerful farm lobby CNA refutes that claim.
"Our beef exports to the EU are only 5% of the European market. It is hard to believe that this can prevent an agreement," said Ligia Dutra, the CNA's head of international relations.