Theresa May promises Irish counterpart proposals for the border in the context of Brexit
Thursday, December 7th 2017 - 07:13 UTC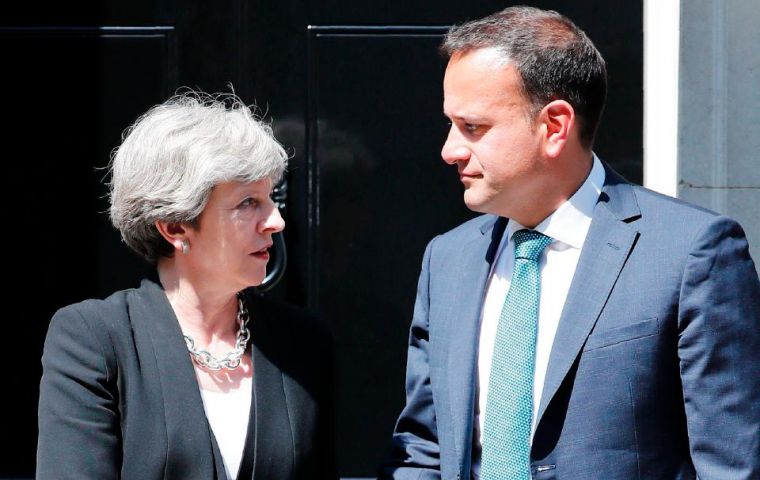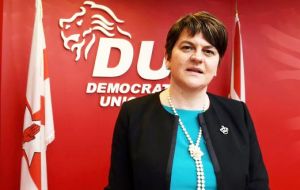 British Prime Minister Theresa May told her Irish counterpart Leo Varadkar that she would propose suggestions to Brexit negotiators over the next 24 hours to try to break an impasse on the issue of the Irish border, Varadkar said on Wednesday.
A tentative deal on the border, which is required if Brexit talks are to move to the next phase, was agreed with Dublin's blessing on Monday after negotiators guaranteed "regulatory alignment" on both sides of the border that Ireland has with the British province of Northern Ireland.
But the Northern Irish party that props up May's minority government rejected the agreement, saying it could not allow any divergence in regulations between Northern Ireland and other parts of the UK, putting up a fresh obstacle a week before EU leaders meet to decide whether to open trade talks.
"We discussed the idea certainly but we didn't discuss any particular words or combination of words or language but I certainly indicated a willingness to consider any proposals that the UK side have," Varadkar told a news conference after speaking to May by telephone earlier on Wednesday.
"Having consulted with people in London, she wants to come back to us with some text tonight or tomorrow. I expressed my willingness to consider that because I want us to move to phase two if that is possible next week."
Varadkar said he had a "very good call" with May but that he reiterated the firm Irish position on issue of the border and that any new language proposed by London must be consistent with the text May had originally agreed to on Monday.
The leader of Northern Ireland's Democratic Unionist Party Arlene Foster also spoke to May earlier on Wednesday and a spokesman for the party said "there was still work to be done" on any border deal.
Brussels says Britain must present its offer this week or it will be too late for a decision.
Varadkar was speaking at a news conference with Dutch Prime Minister Mark Rutte who assured Dublin that a satisfactory deal on the Irish border was essential if EU leaders are to declare that sufficient progress has been made in phase one of the talks when they meet on Dec. 15.
Rutte also agreed with Varadkar that if an agreement cannot be reached next week, then they will have to move into January
"It is the desire and ambition and wish of this government that we should move onto the phase two talks but if it isn't possible to move to phase two next week because of the problems that have arisen, well then we can pick it up in the new year," Varadkar earlier told parliament.