Brexit minister admits to Parliament there are no impact assessments for the UK economy
Friday, December 8th 2017 - 08:30 UTC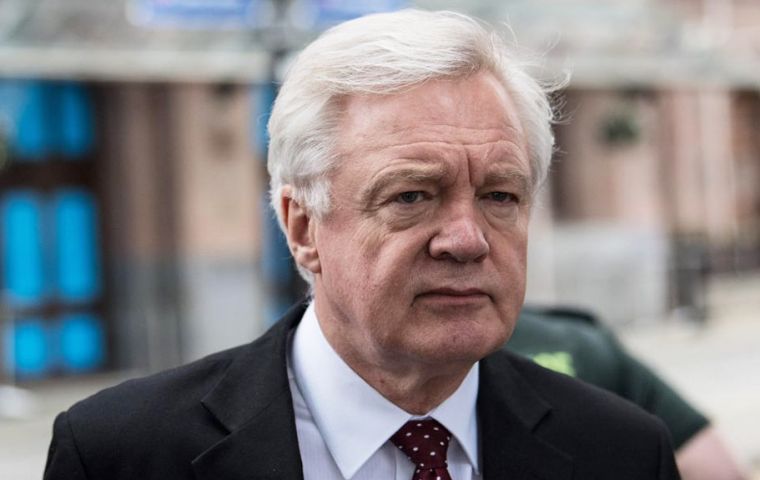 There were calls for David Davis to resign as Brexit Secretary and face investigation for contempt of Parliament, after he admitted that the UK Government has produced no impact assessments on the effect of Brexit on different sectors of the UK economy.
Hauled before the House of Commons Exiting the EU Committee to explain his failure to hand over 58 sectorial assessments as required by Parliament, Mr. Davis said that no such documents had been produced as their usefulness was thought to be "near zero".
Leaving the EU will provoke a "paradigm change" in the UK economy on a similar order of magnitude to the financial crash of 2008, making economic forecast models unlikely to be "informative", he told MPs.
The Brexit Secretary told MPs as early as last December that his department was "in the midst of carrying out about 57 sets of analyses" on different parts of the economy.
In a TV interview in June Davis said nearly 60 sector analyses had been completed and in October he told the Brexit committee that Prime Minister Theresa May had read "summary outcomes" of impact assessments, which he said went into "excruciating detail".
His admission that no assessments existed was branded a "dereliction of duty" by Labour committee member Seema Malhotra, while Green Party co-leader Caroline Lucas said: "This is beyond farcical. Davis is either grossly incompetent, or someone who struggles with the truth and treats MPs with contempt. Either way, he should be out of his job."
Former Liberal Democrat leader Tim Farron called for "Dexit: an exit from the duplicity and dither of David Davis" as he called for the removal of a minister who he said had "misled Parliament and … turned incompetence into an art form".
At least two MPs – Labour's David Lammy and the SNP's Pete Wishart – approached Commons Speaker John Bercow to ask whether contempt proceedings could be triggered.
But the Speaker said he would await the conclusions of the committee before considering the issue.
After the Commons passed a Labour motion, unopposed by the Government, last month demanding that Mr Davis hand the 58 impact assessments over to the committee, the Brexit Secretary insisted that the documents did not exist in that form and that it would take time to compile the information gathered by departments across Whitehall.
There was anger among MPs last week when he gave the committee two lever-arch files containing 850 pages of what he termed "sectoral analyses" setting out the current position of various parts of the UK economy.
On Wednesday he told the committee that "no systematic impact assessments" had in fact been carried out.
Pressed by committee chairman Hilary Benn whether any impact assessment had been conducted of the implications of Brexit for the automotive, aerospace or financial services sectors, Mr Davis said "no" to each, before cutting the Labour MP short, saying: "I think the answer will be no to all of them."