Da Vinci's record US$ 450 million "Salvator Mundi" exhibited at Louvre Abu Dhabi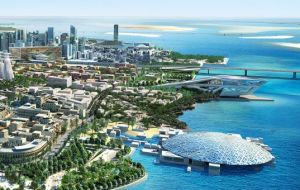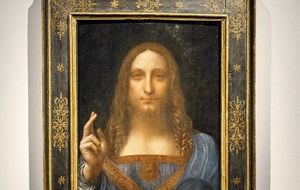 The Louvre Abu Dhabi is getting Leonardo Da Vinci's "Salvator Mundi," which sold last month at a Christie's auction for US$ 450 million, the most ever paid for a work of art. Christie's said the artwork will be going to the museum, but declined to say whether the Louvre Abu Dhabi bought the painting. The Louvre Abu Dhabi said in a tweet Wednesday: "Da Vinci's Salvator Mundi is coming to #LouvreAbuDhabi."

The New York Times reported on Wednesday that Saudi Prince Bader bin Abdullah bin Mohammed bin Farhan Al Saud was the buyer, citing documents it reviewed.
Ever since the sale at Christie's, the identity of the buyer has been the most sought-after secret in the art world and beyond. Buyers from the Middle East and Asia have been snapping up masterpieces to fill regional museums -- and pushing prices ever higher.
The Louvre Abu Dhabi -- a franchise of the Paris original -- is a symbol of the oil-rich sheikhdom's drive to boost its "soft power" credentials. To differentiate itself from neighboring Dubai, Abu Dhabi is targeting affluent tourists looking for culture and art and it has also built hotels, theme parks and malls.
The organization behind the museum became one of the most aggressive buyers on the global art market over the last decade. It opened last month with more than 600 artworks for its permanent collection, including such Old Master paintings as Giovanni Bellini's "Madonna and Child." Da Vinci's "La Belle Ferronnière" is on loan there from the Louvre in Paris.
The museum's opening has also coincided with a period of heightened political tension in the Gulf and the broader Middle East. As one of the seven sheikhdoms in the United Arab Emirates, and the one with the largest oil reserves, Abu Dhabi is entwined in a Saudi Arabian-led dispute with neighboring Qatar over its alleged support for terrorism.
Believed to be the last Da Vinci in private hands, "Salvator Mundi" commanded four times what Christie's had projected even as skeptics questioned its authenticity. The seller was Russian billionaire Dmitry Rybolovlev, who purchased it for US$ 127.5 million in 2013.
"We are delighted that the work will again be on public view," a Christie's spokesperson said of the record-setting painting.
Alex Rotter, the auction house's co-chairman of postwar and contemporary art in the Americas, represented the anonymous buyer of the Da Vinci and placed the winning bid after a spellbinding 19-minute contest that saw offers at US$ 200 million, US$ 300 million and US$ 350 million fall short. The result obliterated previous world records for an art sale of any kind, including the auction high of US$ 179.4 million for a Pablo Picasso painting sold in 2015.