Trump the big looser in Alabama's senate race: several crucial bills imperiled
Wednesday, December 13th 2017 - 11:08 UTC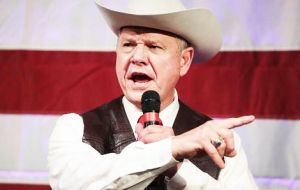 Doug Jones has become the first Democrat in 25 years to win a US Senate seat for Alabama after a bitter campaign against Republican Roy Moore. The 63-year-old former prosecutor's victory deals a blow to Republicans, narrowing their majority to 51-49 in the Senate. With 99% of the votes counted, Mr Moore refused to concede on Tuesday night.
The election took a twist when Mr Moore became embroiled in allegations of sexual misconduct with teenage girls. Moore, who was backed by President Donald Trump, denies the claims.
The president congratulated Mr Jones in a tweet shortly after US media declared him the winner, adding that "Republicans will have another shot at this seat in a very short period of time".
Moore's campaign chairman, Bill Armistead, said it was too close to call the race despite several US outlets reporting in favor of Mr Jones.
The victory by Jones, a former U.S. attorney best known for prosecuting two Ku Klux Klansmen responsible for Birmingham's infamous 1963 church bombing, imperils already-uncertain Republican tax, budget and health proposals and injects tremendous energy into the Democratic Party's early push to reclaim House and Senate majorities in 2018.
Still, many Washington Republicans viewed the defeat of Moore as perhaps the best outcome for the party nationally despite the short-term sting. The fiery Christian conservative's positions have alienated women, racial minorities, gays and Muslims — in addition to the multiple allegations that he was guilty of sexual misconduct with teens, one only 14, when he was in his 30s.
A number of Republicans declined to support him, including Alabama's long-serving Sen. Richard Shelby. But Trump lent his name and the national GOP's resources to Moore's campaign in recent days.
Had Moore won, the GOP would have been saddled with a colleague accused of sordid conduct as Republicans nationwide struggle with Trump's historically low popularity. Senate leaders had promised that Moore would have faced an immediate ethics investigation.
Jones takes over the seat previously held by Attorney General Jeff Sessions. The term expires in January of 2021.
Republicans on Capitol Hill have expressed hopes of scheduling a vote on their tax legislation before Jones is sworn in, but lawmakers are still struggling to devise a compromise bill to bridge the divide between the House and Senate legislation that can win majority support in both chambers.
The Republican loss also gives Democrats a clearer path to a Senate majority in 2018 — albeit a narrow one — in an election cycle where Democrats are far more optimistic about seizing control of the House of Representatives.
Ultimately, Tuesday's contest came down to which side better motivated its supporters to vote. Alabama Secretary of State John Merrill said turnout likely would not exceed 25% of registered voters.