Chile: Sunday's winner will have to learn to cohabit with the opposition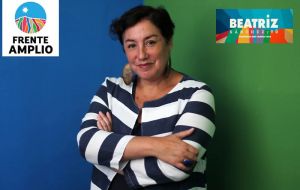 With only a few days left for next Sunday's runoff in Chile's presidential election two factors have become decisive and a challenge for the two hopefuls, opposition candidate conservative Sebastian Piñera, and Alejandro Guillier, the incumbent, reluctantly accepted by the current system in office.
Of the two challenges, one of them is the abstention of the first round and the capacity of contenders to draw on them, and secondly, most significant the leader of the influential leftist bloc Beatriz Sanchez, who finally has endorsed presidential hopeful Guillier.
Ms Sanchez, the flag-bearer for the hard-left Frente Amplio coalition, said Piñera's suggestion that ballots had been tampered with in the first-round election had changed her mind about staying quiet on whom she would vote for in the run-off.
"That crosses the line and that's why today I've decided...to vote against Sebastian Piñera," Sanchez told journalists. "My vote will be for Alejandro Guillier."
Winning over Sanchez voters has been seen as essential for a Guillier triumph over Piñera in the second-round vote. As Frente Amplio's presidential candidate, Sanchez secured twice as many votes as expected by opinion polls and came two points short of moving onto the run-off election with Piñera.
But it was unclear if Sanchez' somewhat reluctant endorsement of Guillier would be enough to get her supporters excited about heading to polls on Sunday.
Piñera, a former president who governed Chile between 2010 and 2014, had been expected to easily win this year's election before his disappointing performance in the Nov. 19 first-round vote.
However much will depend on candidates' ability to convince many of the disenchanted to vote next Sunday, since on November 19, only 46% turned out, which for the political tradition of Chile is extremely low.
The only two latest opinion polls released, on December first, since there is a pre fifteen day legal ban, showed Piñera ahead in both, with 40% and 47% against Guillier's 38.6% and 45%, but this was before Ms Sanchez officially announced and recommended her followers to support Guillier.
Piñera managed 36.64% in the first round, below the 40% expected and forecasted by opinion polls, and even when in the Lower House the opposition obtained 73 out of 155 benches, the runoff with Guillier and his 22.7% has been quite different. With the unexpected 20.27% of Ms Sanchez, the incumbent is much stronger but still some seven points short of a 50% majority, while Piñera, with his hard right wing allies is also in that range.
So the Sunday result can be expected to be quite tight, with political scientists believing that the difference between the two hopefuls will not be greater than 200.000 votes out of a total 14 million Chileans registered.