Falklands, next call for Indian Navy sailboat with an all-women crew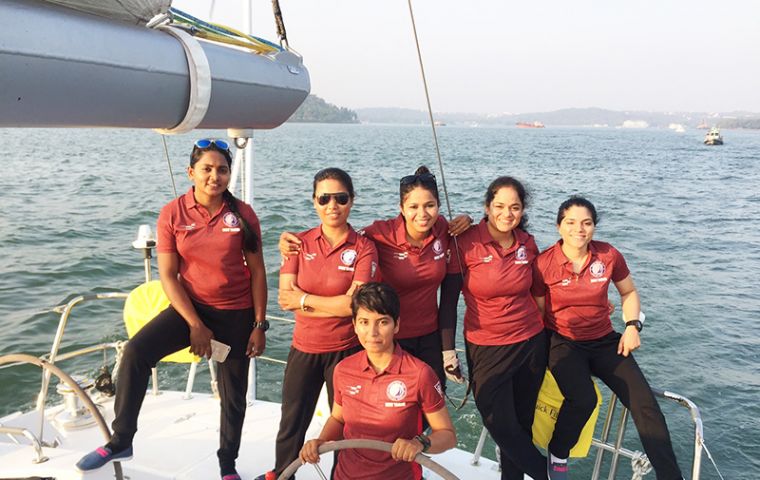 The Indian Navy sailboat INSV Tarini left New Zealand on Tuesday for the next leg of its journey towards Falkland Islands, after completing the second leg of its circumnavigation voyage, an official statement said. Tarini, with its all-women team of Indian Naval officers, had arrived in New Zealand on November 29.
During their stay in the port of Lyttelton, the team members interacted with a wide range of stakeholders during the welcome reception hosted by the High Commission on November 30. It was attended by about 100 distinguished guests, including members of Parliament, state officials, businessmen, academicians, leaders from Indian community and media persons.
INSV Tarini was open to visitors at Lyttelton Port of Christchurch on December 3. Nearly 200 visitors, from all walks of life, visited the vessel and interacted with the crew.
The crew was also welcomed by the city of Christchurch during the traditional festive march, known as the 'Santa Parade'. More than 200 school children attended a presentation and interaction session with the crew at Prebbleton School on December 5.
The all-women team also visited the Naval Point Yacht Club, Canterbury and Ara Institute, New Zealand, where a presentation on 'Navika Sagar Parikrama' was given to the audience.
The crew visited the traditional Maori cultural centre, 'Rehua Marae', during the port stay and also had a trip to few tourist places near Christchurch, including Hanmer hot springs and the French harbour, Akaroa.