Brazil will join the UN peace force in Central Africa Republic with 750 troops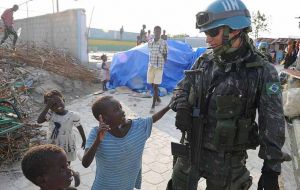 Brazil will join the United Nations Multidimensional Integrated Stabilization Mission in the Central African Republic, Minusca, the United Nations has announced. This is an important decision since Brasilia looks to maintain a high profile in UN peace operations and show its increased interest in Africa.
What remains to be seen is whether the 750 Brazilian troops to be deployed will have a positive impact in MINUSCA's operations as the violence in the troubled central African state continues.
Brazil has had a strong interest in participating in UN missions in order to increase its international profile. Brazil had a leading role in the United Nations Transitional Administration in East Timor, UNTAET, as well as the United Nations Stabilization Mission in Haiti, MINUSTAH, which concluded its activities last October after 13 years in the Caribbean state. The mission has been replaced by a smaller mission, the United Nations Mission for Justice Support in Haiti (MINUJUSTH).
According to October 2017 statistics provided by the UN Peacekeeping website, Brazil currently has deployed 250 personnel – police, experts on mission, contingent troops and staff officers – in various UN missions. The largest contribution is to the UN Interim Force in Lebanon, UNIFIL, where Brazil has deployed 205 troops and regularly deploys a warship to UNIFIL's maritime task force.
Brazil also operates in other UN missions in Africa, such as the UN Mission for the Referendum in Western Sahara, MINURSO; the UN Mission in Darfur (UNAMID; the UN Integrated Peacebuilding Office in Guinea-Bissau, UNIOGBIS; the UN Interim Security Force for Abyei. UNISFA; and the UN Mission in South Sudan, UNMISS. Finally, it is worth noting that Brazil is already participating in MINUSCA as it has deployed one expert on mission and two staff officers.
Brazilian contribution to MINUSCA will dramatically increase the operation since, according to reports, 750 Brazilian military personnel will go to the African state. On 23 November, a Twitter account apparently belonging to Brazilian General Estevam Cals Theophilo Gaspar de Oliveira tweeted a collage of photos of the multinational logistic exercises AmazonLog17 that Brazil carried out with Colombia, and Peru. The tweet explains the experience learned from the exercises "will be utilized by the Brazilian army in the UN mission that it will participate in 2018 in the Central Africa Republic, MINUSCA."
There is no official timeline for when the troops will be deployed, but Brazilian General Ajax Porto Pinheiro in a late November article, stating that "the timing is not precise, but we think our troops will go to Central Africa by March or April." It is also unclear what types of units will be deployed and what exactly will be their task in MINUSCA.