Brazilian beef exporters expect a record year in 2018: 1.68 million tons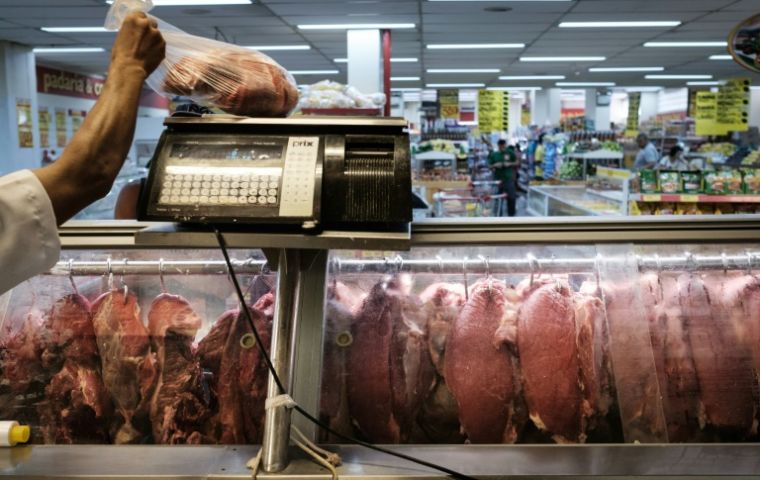 Brazilian beef exporters expect shipments to grow 10% in 2018 after rising an estimated 9% this year despite corruption and food safety scandals that temporarily closed off major markets. Trade group Abiec on Thursday said Brazil, the world's largest beef exporter, would likely sell 1.68 million tons of beef abroad next year, up from 1.53 million tons in 2017. Revenue is expected to rise about 11% to US$6.9 billion in 2018, after a 13% rise this year to US$6.2 billion.
The bullish outlook is based on expectations of the United States lifting a ban on fresh Brazilian beef and China certifying imports from nearly a dozen more plants, Abiec said, which could boost exports to the Asian giant by 50%.
Such robust growth suggests the sector has bounced back quickly from a bombshell investigation in March named "Weak Flesh," which alleged that some meatpackers had bribed health inspectors to evade safety checks.
The probe prompted a nearly 25% drop in beef export revenue in April from the prior month, Abiec said, as countries temporarily banned Brazilian imports due to the probe.
Abiec said the industry recovered quickly, however, boosting beef export volumes and revenue in four consecutive months from May to August while dealing with fallout from the probe.
"The positive results show the sector's strength in the face of adversity," said Antonio Camardelli, head of Abiec. "The quick recovery is perceptible."
Hong Kong, China and Russia are among the main importers of Brazilian beef, buying a combined 703,000 tons in the first eleven months of the year.